Paul Giamatti Playing Manager And Possible Villain In NWA Biopic Straight Outta Compton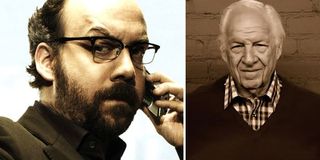 After a slew of casting catastrophes and controversies, Straight Outta Compton has landed a celebrated actor in Paul Giamatti. And with this casting coup, the NWA biopic has secured its biggest movie star.
THR says Paul Giamatti has joined Straight Outta Compton. He has signed on to play NWA manager Jerry Heller. You can see a side-to-side comparison of the pair above. Giamatti will now appear opposite a cast of unknowns, who will play DJ Yella, Dr. Dre, Eazy-E, Ice Cube and MC Ren. It's rumored Dr. Dre and Ice Cube will make appearances as themselves in the film's resolution.
Though not as well known as the NWA crew, Jerry Heller was an established and respected taste maker in music when he took a risk on the pioneering rap group. He'd previously repped or worked with acts like Journey, ELO, REO Speedwagon, Pink Floyd, and Elton John. With Eazy-E, Heller co-founded Ruthless Records, and oversaw NWA through their rise to fame. But some have blamed Heller for the group's eventual disintegration. It seems Giamatti's will be a key role in this rags-to-riches tale.
We first got word on this biopic back in 2010, when Andrea Berloff was hired to pen a screenplay based on the group's formation and subsequent success story. By June of 2012, F. Gary Gray was on board as Straight Outta Compton's director, and was holding open casting calls to fill the biopic's lead roles. Nearly two more years clicked by before the filmmakers pursued fast-rising African-American starMichael B. Jordan. But with The Fantastic Four filling his schedule, he sidestepped the project, seemingly leaving its casting as a quagmire.
Finally, in June of this year, Universal Pictures gave the greenlight when a crew of unknowns had been assembled. This line-up boasted Corey Hawkins as Dr. Dre, Jason Mitchell as Eazy-E, and O'Shea Jackson Jr. (A.K.A. Ice Cube's son) as Ice Cube. But a casting controversy soon followed when a call for female extras was called "racist." Just last week, the production hit another snag when its filming was interrupted by a real shooting. While on location in the Compton Courthouse, a conflict unrelated to the film lead to gunfire. One person not affiliated with Straight Out of Compton was shot, but thankfully not mortally wounded.
Basically, after a barrage of bad luck, it looks like this biopic has finally found some good luck in securing such a heralded performer. Paul Giamatti has earned an Academy Award nomination for his supporting turn in the biopic Cinderella Man, and won a Golden Globe for fronting the biographical mini-series John Adams. You'd be hard-pressed to find an American actor who could bring better gravitas and prestige to this plagued production. Here's hoping this is where Straight Out of Compton's fortunes turn around.
Straight Out of Compton is now in production. It is expected to open in theaters on August 14, 2015.
Your Daily Blend of Entertainment News
Staff writer at CinemaBlend.