Paul Haggis Sets Political Drama Paris As His Next Film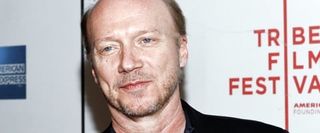 The last time Crash director Paul Haggis made headlines, it wasn't for his directing or screenwriting or anything at all to do with movies; it was a blistering expose of Scientology, the church/cult he had belonged to for years, that led to him writing a book about the organization. That was almost exactly a year ago, and though before then he had circled some movie projects, including a Crash-style romantic drama, he's been pretty silent on the development front, presumably busy writing a book that targets one of the most well-funded and bizarre churches in the world.
But now, Haggis is finally ready to return to filmmaking, and according to THR he's set up his next directorial project. He'll be directing the political drama Paris, written by Dawn Kuisma and funded by Canadian production companies, which is enough for THR to call it a Canadian film. It might be paranoid to connect Haggis's anti-Scientology work to the fact that he's now working outside the American industry, but it's undeniable that there are a lot of powerful Scientologists in the industry, and it might be smart for Haggis to stay out of town for a while. There are no more details about the plot of Paris, but Kuisma's previous work includes the 2008 documentary about post-traumatic stress disorder called After Iraq.
Whether you're still mad at Haggis for the whole Crash winning Best Picture thing, it's hard to deny he's an interesting and important voice in the movies, and it's nice to see him returning after his last two films, In The Valley of Elah and The Next Three Days, got relatively little attention. (Image via Sam Aranov/Shutterstock (opens in new tab))
Staff Writer at CinemaBlend
Your Daily Blend of Entertainment News
Thank you for signing up to CinemaBlend. You will receive a verification email shortly.
There was a problem. Please refresh the page and try again.