Paul Poster Riffs On The Social Network, Shows Off The Alien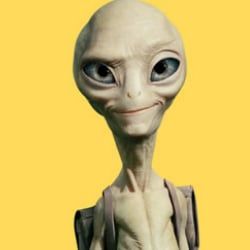 One of the biggest wild cards of the upcoming spring movie season is Greg Mottola's Paul, starring Simon Pegg and Nick Frost as two geek pals traveling to Comic Con who encounter an alien hitchhiker (voiced by Seth Rogen) over the course of their journey. The plot of the film is still being kept relatively under wraps, but the cast somehow manages to also include Sigourney Weaver, Jeffrey Tambor, Joe Lo Truglio, Bill Hader, Jason Bateman and Kristen Wiig; as we saw in the teaser trailer that hit in October, it's more of a buddy road movie than a sci-fi adventure, though just after they finished filming Bill Hader was comparing it to early Spielberg, so who the hell knows what to expect.
The new teaser poster for the film that hit today at Collider doesn't explain much, but it is a funny riff on the ubiquitous Social Network poster and gives us a square-on look at the E.T.-esque alienn, so I'll take it for now. Check out a smaller version below and click on it for Collider's larger version. Paul hits theaters on March 18 next year, and a longer trailer will hit Yahoo tomorrow, according to Simon Pegg's Twitter.
Your Daily Blend of Entertainment News
Staff Writer at CinemaBlend