Peanuts Is Not Anything Like Space Jam, In Case You Were Wondering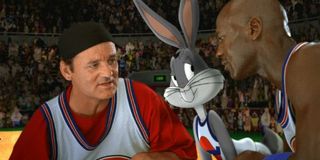 In the event that you were worried about Paul Feig ruining another part of your childhood (and we're not talking about his Ghostbusters reboot), have no fear. The Bridesmaids helmer is producing The Peanuts Movie for director Steve Martino, and he assures us that we won't be having a repeat of Space Jam. In other words, it won't be a completely modernized interpretation.
Speaking with Collider at SXSW in promotion of his latest film with Melissa McCarthy, Spy, Feig spoke a bit about what we can expect from The Peanuts Movie.
So there you have it. Though diehard and misogynistic Ghostbusters fans have berated Feig for ruining their childhoods with an all-female cast, The Peanuts Movie seems to be in good shape. Don't expect Michael Jordan — or, rather, the modern MJ equivalent, like LeBron James perhaps — or Bill Murray popping up to add some flair. But there is one thing we can all appreciate: it's now officially official that Justin Bieber won't be in this.
The Peanuts Movie will bring back Charlie Brown, Snoopy and the gang for a new CG adventure. According to the official plot synopsis, Charlie begins "an epic quest." Though his ultimate goal is still mystery, previous details reveal it's something he's sure he needs, even though he realizes that he's doing just fine without it. Meanwhile, our beloved pal Snoopy will take to the skies as his World War I Flying Ace persona in an ultimate showdown against his arch-enemy, The Red Baron. We've already seen some of the action to come in the previous trailers, and fans of the original comic strip and subsequent animated installments will surely get a kick out of it.
The Peanuts Movie will hit the big screen for the first time on November 6.
Your Daily Blend of Entertainment News
Your Daily Blend of Entertainment News
Thank you for signing up to CinemaBlend. You will receive a verification email shortly.
There was a problem. Please refresh the page and try again.