Melissa McCarthy's New Spy Trailer Is What You'd Expect From A McCarthy Spy Movie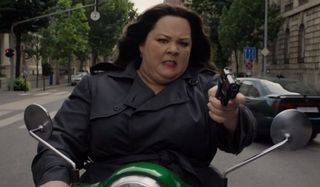 What happens when you turn Melissa McCarthy into a secret agent? Pretty much exactly what you're envisioning in your head right now. After much talk, the first trailer for Spy, the comedienne's new movie with her Bridesmaids and The Heat director Paul Feig, has landed online in both a family friendly green-band trailer and a not-so appropriate red-band version.
We've already seen McCarthy in those buddy-buddy movies. She was buddies with Sandra Bullock in The Heat. She was buddies with Jason Bateman in Identity Thief. And she was kinda buddies with Susan Sarandon in Tammy. It's at least good to see her set out on her own as a first-time undercover agent, though we can't really say it's all that refreshing.
Spy, formerly called Susan Cooper, sees McCarthy as a CIA analyst who's tired of blending in with everyone else. As she says in the trailer, which premiered over at Yahoo Movies, her mother always told her, "Making a wave isn't always brave." But this all changes when the CIA needs to unearth the location of a nuclear bomb from a dangerous woman (Rose Byrne) who knows the identities of all their agents. They need someone who can easily blend in. Enter Susan Cooper. We don't know what's better — McCarthy in a cat sweater or Jude Law trying to do an American accent?
The red-band version of the Spy trailer, seen above, is a bit longer, though the only additions seems to be a bullet to the head, a bit more cliched footage of McCarthy screaming in slow motion, a couple of more gags and a lot more cussing. Sometimes we wonder if there's an actual comedic purpose for Jason Statham throwing around the word "twat" or if he's doing so just because he can. Though, if you like this kind of movie, you'll probably get a laugh out of McCarthy's "limp-dick unicorn" line at the end.
McCarthy and Feig have been working together for a long time now — he is the one who put her on the map with Bridesmaids — and the two are planning to continue this relationship even after Spy. It was revealed recently that the actress is currently in talks to join her director buddy for his female-led Ghostbusters reboot. Based on this trailer for Spy, though, these two are getting complacent with the same old style of gags that worked so well for them in the beginning of their on-screen relationship. Now, however, it's getting a bit stale. They'll no doubt keep making money at the box office, but we want nothing more than for them to get a bit more creative with the humor.
Spy will hit theaters on May 22.
Your Daily Blend of Entertainment News
Thank you for signing up to CinemaBlend. You will receive a verification email shortly.
There was a problem. Please refresh the page and try again.