Are People More Excited For Suicide Squad Than Batman v Superman?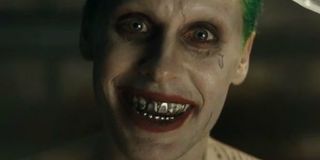 Last week, the cinematic community's Christmas came early after the trailers for both Suicide Squad and Batman v Superman: Dawn Of Justice hit the web and instantly had comic book fans in a daze. We now live in an age when we can't just appreciate each of these trailers for their own brilliance. Instea we have to instantly compare and analyse reactions to find out which one was better, and it looks as though, surprisingly, Suicide Squad came out on top.
How do we know this? Well, thanks to Warner Bros. Pictures' official YouTube page. Because even though Batman v Superman: Dawn Of Justice's Comic-Con trailer hit the internet a full two days before Suicide Squad's footage, the latter film's clip has been watched substantially more.
As of Monday afternoon, Dawn Of Justice's trailer has been watched a paltry 35,188,226 times. Meanwhile, Suicide Squad's trailer has now been viewed 36, 527, 648 times. That's despite the fact that Warner Bros. was forced to release a HD version of the Suicide Squad trailer last Tuesday after a bevy of bootleg versions from Comic-Con began to appear online.
Either way, it's a win-win situation for both Warner Bros. pictures and DC, because it proves that anticipation for both of these films is currently at a fever pitch.
It's also a win-win situation for us, too, because it gives us another chance to take a gander at both of the trailers. And since so many of you are apparently supremely keen on Suicide Squad, let's take a fresh look at the first trailer for the hugely anticipated blockbuster below.
What will have Warner Bros. even more excited is that Suicide Squad possesses more cult characters than Batman VvSuperman, yet there is even more anticipation ahead of it hitting cinemas. Sure, the likes of Harley Quinn and, especially, The Joker are tremendously popular, but the fact that their names aren't in the title probably had the studio worried that people wouldn't know they featured. Obviously these fears were unnecessary though.
Of course, there were no such concerns for Batman v Superman: Dawn Of Justice. Even though the trailer has failed to match the figures of Suicide Squad, Warner Bros. will be more than aware that the film has already built up a healthy head of steam a full eight months ahead of its release.
It will be interesting to see how Warner Bros. tries to maintain anticipation for Batman v Superman: Dawn Of Justice ahead of its release on March 25, 2016. Especially since they've shown so much of the film already. While the other interesting story will now be whether Suicide Squad, which is released the following August, can actually beat its more renowned peer at the box office.
Your Daily Blend of Entertainment News
Thank you for signing up to CinemaBlend. You will receive a verification email shortly.
There was a problem. Please refresh the page and try again.