Perfect Casting: Carla Gugino To Star In MILF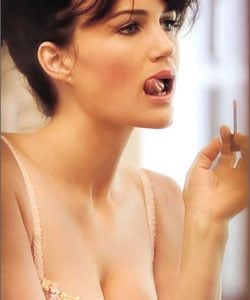 This seems like the role Carla Gugino was born, and aged like a fine wine, to play. The LA Times says she's in talks to play the titular hot mom in the upcoming movie MILF.
In a world where Cougars are suddenly all the rage, it's nice to see someone getting back to basics and giving sexy mothers their due again. In this case that someone is Franck Khalfoun, who directed the forgettable P2 and will now handle MILF and all the MILFs within it. He's giving them their due by, well, making them fight.
The movie's a revenge flick about a woman released from prison and out to take care of unfinished business. It sounds kind of like Machete, but for Moms you'd like to have intercourse with, instead of angry illegal aliens. Actually the title is supposed to stand for "Moms I'd Like To Fight", but since Gugino may be involved substituting a different "F" word seems utterly accurate as well. But that's as good a way as any to slip it past the MPAA censors.
Your Daily Blend of Entertainment News