These Photos Of Captain America And Chris Pratt Visiting A Children's Hospital Are Priceless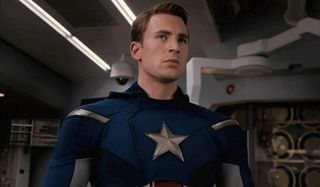 Remember that Super Bowl bet made by our two favorite superhero Chris'? Well, we've seen the photos of Chris Evans and the Guardians of the Galaxy star Chris Pratt dressed as Star-Lord visiting Christopher's Haven but now we'd like to share a few photos from the duo's recent visit (with Evans in full Cap gear) to Seattle Children's Hospital. And let's just say they are absolutely priceless. See for yourself, the pure joy and excitement experienced by the children below.
For those who aren't up on the now-infamous Star-Lord/Peter Quill and Captain America/Steve Rogers bet, this is how it all got started. Toward the end of January, a few weeks before this year's Super Bowl, a fierce Twitter battle broke out between the two fellow superheroes. Upon learning the two teams facing off, Evans (a longtime New England Patriots fanatic) announced to the world that Pratt (a devoted Seahawks fan) was now his enemy.
After a little back and forth, the dueling duo came up with a friendly little wager where the party associated with the losing team would agree to make an in-costume visit to the winner's charity of choice. And while the Patriots were victorious the night of The Big Game, the two good-natured individuals agreed that for everyone to come out a winner, both actors need to take on the mission. Here are a couple more photos showing Evans in full Cap gear and his boy Pratt, bringing smiles to a few kids in need.
This one, showing one of Seattle Children's Hospital's patients posing with the two actors while showing off his Star-Lord action figure is especially cool.
According to the Seattle Children's Hospital, Marvel, TeeFury, Funko and Emerald City Comicon donated the above gifts, which were given to many of the foundation's patients. To top things off, Disney sent out a special Cap suit, specific for the occasion.
With Pratt's busy schedule revolving around the soon-to-be-released Jurassic World and The Magnificent Seven, and Evans' equally packed film slate, Avengers: Age of Ultron and Captain America: Civil War, it's awesome to see the duo make time for things like this. What a couple of class acts!
Your Daily Blend of Entertainment News