How Captain America and Star-Lord Won The Super Bowl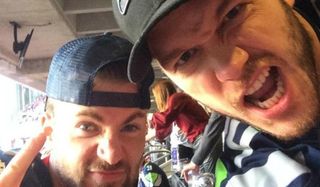 While the showdown between the New England Patriots and Seattle Seahawks was the main event, there were a lot of other factors to the 2015 Super Bowl that grabbed the spotlight. Between the overwhelming number of commercials and movie trailers that aired during Sunday's big game, Kanye West's sad selfies and Katy Perry's explosive halftime show, there was plenty to keep non-sports fans entertained. However, nothing was more captivating than the on-going bet between best buds/Marvel superheroes Chris Evans and Chris Pratt.
The Marvel Cinematic Universe's Captain America and Star-Lord have been friends and football fans for years. Evans, who was born in Boston, is a major supporter of the Patriots and Pratt was rooting for the Seahawks during the Super Bowl. As we reported earlier, the two became betting men and dominated Twitter talk in the days leading up to the game. As the Patriots were the ones who walked away winners, that meant Pratt had to face the music. And he did so like a gentleman.
The terms of the bet were befitting of Marvel heroes. If the Patriots won, Pratt would have to dress up as Star-Lord from Guardians of the Galaxy and visit Christopher's Haven in Boston, which is an organization that provides housing for children suffering from cancer, as well as their families. And, of course, he'd also have to wear a Tom Brady jersey. If the Seahawks emerged victorious, however, then Evans would have to traverse enemy territory dressed as Captain America, waving the 12th Flag of the Seahawks while visiting the Seattle Children's Hospital. Though the former scenario is the one that'll definitely happen, Evans revealed on Twitter that both Chrises will be fulfilling the conditions of their bet.
As Pratt told Entertainment Tonight before the Super Bowl, the two longtime friends were talking a lot of smack when Star-Lord realized that they could turn this amicable rivalry into something that could help out those in need. This bet, though, had the perfect mix of elements that everyone rooting for their teams on Sunday could get behind. Pratt's wife, funny gal Anna Farris, was also on hand, as was Evans' brother Scott, to snap some photos of the behind-the-scenes happenings.
Chris Pratt had already used his Marvel status for good when he showed up at Children's Hospital Los Angeles as Star-Lord for a special screening of the film for patients. But both he and Evans have stepped up their charitable games. While the Patriots may still be celebrating their big victory, these guys are the real Super Bowl winners.
Your Daily Blend of Entertainment News