These Pictures Of Star-Lord Visiting A Children's Hospital Are As Adorable As You'd Guess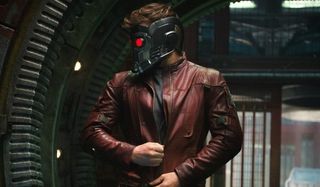 Star-Lord was called into action recently to make good on his Super Bowl bet with fellow superhero Captain America, which he lost when the New England Patriots beat the Seattle Seahawks 28-24. While the mission didn't revolve around saving the universe, we think it's safe to say it certainly had a positive impact on a few children and their families. Chris Pratt shared a few of the photos on his Facebook showing himself in full Star-Lord getup, bringing smiles to children who need them. Check out this shot of Pratt as Star-Lord with Chris Evans, bringing a genuine smile to a child in need.
Post by Chris Pratt.
It was two weeks ago when the pair of Marvel men squared off on Twitter, announcing their rivalry to the world. Evans, a Boston native and proud Patriots supporter, called Pratt his enemy, prompting the Star-Lord actor and Seahawks fan to retort, wittily calling Russell Wilson the only Captain America. After a few more exchanges the two landed on a bet where the loser would appear in their Superhero costume at the winner's charity of choice. Hence, the Guardians of the Galaxy actor making good by paying a little in-character visit to Christopher's Haven to brighten the day of children suffering from cancer. And just look at the results he can bring... even to Patriots' fans.
Post by Chris Pratt.
It's so awesome to see Chris Pratt take the initiative to connect with fans in a way that betters the world. What a real class act.
Post by Chris Pratt.
Here is another one with Star-Lord and what looks to be a very happy, smiling family of superhero fans.
Post by Chris Pratt.
It's awesome that these two, who raised a combined $27,000 dollars for Christopher's Haven and Seattle Children's Hospital through their bet, going down this charitable road. It's worth noting that everybody's a winner when these two put down wagers as the two agreed to pay a visit to both facilities. I'm sure Pratt has tons in store for us in Guardians of the Galaxy 2 (2017) and likewise Evans in Captain America: Civil War (2016), but I can honestly say they've trumped anything they could possibly do in the movies with this one.
Your Daily Blend of Entertainment News