New Pics From Soderbergh's Haywire Feature Guns And Channing Tatum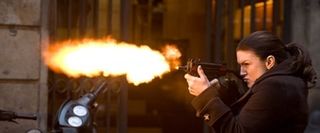 We're only a month away from the release of Steven Soderbergh's new action film Haywire, and it doesn't seem to be making much of a blip on the pop culture radar. Maybe that will change in the coming weeks, once the glut of Christmas releases are out of the way, but you'd think a new action movie by a high-profile director like Soderbergh would have more buzz about it than this one does. The U.K. entertainment site Hey U Guys has posted some new images from the movie, so maybe we're about to see the marketing machine kick into full gear. Here's one of the shots, and you can check some more in the clickable gallery below-- head to Hey U Guys for the full collection.
Haywire has a lot of things going for it, including a frankly awesome cast: Channing Tatum, Michael Fassbender, Ewan McGregor, Michael Douglas, Antonio Banderas, and Bill Paxton, amongst others. One of the more interesting cast members, however, is MMA star Gina Carano, holding down the lead role and doing her own stunts. I realize it's easier than ever to fake things these days, but there's just something viscerally cool about knowing it's actually the actor dangling off a building/leaping through an explosion/engaging in a knife fight. Plenty of athletes have tried to cross over to acting, with various degrees of success. Ms. Carano has certainly picked an impressive pedigree for her debut film, so we wish her luck.
Haywire tells the story of a black ops soldier (Carano) who is betrayed by her handlers while on a mission, then makes her way back home to take her revenge. I know, not the most original logline; hopefully Soderbergh and writer Lem Dobbs have put a new spin on it. We'll find out on January 20th, when Haywire opens in theaters.
Image 1 of 4
Your Daily Blend of Entertainment News
Your Daily Blend of Entertainment News
Thank you for signing up to CinemaBlend. You will receive a verification email shortly.
There was a problem. Please refresh the page and try again.