Pirates Of The Caribbean 4 Hires Gemma Ward As A Mermaid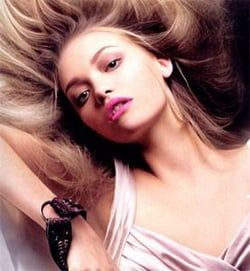 Pirates of the Caribbean 4 will, apparently, be going pretty heavy on the mermaids. Makes sense. Jack loves the ladies. Back in April actress Astrid Berges-Fisbe was hired to play a half-woman, half-fish in the film and now they've hired another one.
The Courier says Australian model turned actress Gemma Ward has now also been hired to get fishy for Pirates of the Caribbean: On Stranger Tides. It's possible I suppose that they've fired Astrid Berges-Frisbe and replaced her with an Aussie, but I see no reason why Pirates can't have more than one scaly sex-kitten. Mermaids may be part fish, but they're also part woman, and both of those halves tend to travel in groups.
For Ward it's a small part, but a speaking role, which should mean she'll be more than just background in a school of super hot babes with no legs. She'll shoot her scenes for Captain Jack Sparrow's next adventure in August.
Your Daily Blend of Entertainment News