Pirates Of The Caribbean 5, Muppets 2 And Maleficent Set New Release Dates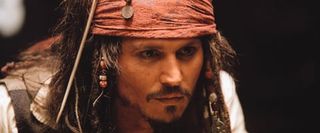 Disney has a ton of movies coming up that you're excited about, from further adventures for the Avengers to a Muppets sequel, and now we finally have a better sense of exactly when we can expect them. The studio announced release dates for a whole slew of their upcoming projects, in addition to adding 3D treatment for two of the biggest one, Captain America: The Winter Soldier and Guardians of the Galaxy. Oddly enough they canceled another 3D re-release-- The Little Mermaid had been scheduled for a return to the big screen in September, but that's now been canceled.
As for the new dates, here's the rundown straight from the studio itself:
THE MUPPETS 2 is now dated on 3/21/14.
MUPPETS 2 is produced by Todd Lieberman and David Hoberman and directed by James Bobin. The screenplay is by Bobin and Nick Stoller, who will also serve as executive producer. The cast includes Ricky Gervais and Ty Burrell – and of course, the whole Muppets gang.
CAPTAIN AMERICA: THE WINTER SOLDIER (Marvel) will be available in 3D.
Releases on 4/4/14.
CAPTAIN AMERICA: THE WINTER SOLDIER will pick up where "Marvel's The Avengers" leaves off, as Steve Rogers struggles to embrace his role in the modern world. The film stars Chris Evans in the title role and will be directed by brothers Anthony and Joe Russo.
MALEFICENT is now dated on 7/2/14 (from 3/14/14).
MALEFICENT, the untold story of Disney's most beloved villain from the 1959 classic Sleeping Beauty, reveals the events that hardened Maleficent's heart and drove her to curse the baby, Aurora.
MALEFICENT will be released in 3D and is produced by Joe Roth and directed by Robert Stromberg, from a screenplay written by Linda Woolverton. The film stars Angelina Jolie as Maleficent, Sharlto Copley, Elle Fanning, Sam Riley, Imelda Staunton, Miranda Richardson, Juno Temple and Lesley Manville.
GUARDIANS OF THE GALAXY (Marvel) will be available in 3D.
Releases on 8/1/14.
GUARDIANS OF THE GALAXY, based on the Marvel comic books of the same name, features an unlikely cast of characters who must team up in order to defeat a cosmic force of epic proportions. James Gunn will direct.
1952 is now dated on 12/19/14 in 3D.
1952 will be produced by Damon Lindelof and directed by Brad Bird, from a script by Lindelof and Bird. George Clooney will star.
PIRATES OF THE CARIBBEAN 5 is now dated on 7/10/15.
PIRATES OF THE CARIBBEAN 5 will be produced by Jerry Bruckheimer and will star Johnny Depp as Captain Jack Sparrow. Jeff Nathanson is writing the screenplay.
The Pirates of the Caribbean films have earned over $3.7 billion at the worldwide box office. Most recently, Pirates of the Caribbean: On Stranger Tides earned over $1.043 billion.
All of these were projects we knew about previously, though Maleficent-- starring Angelina Jolie as the classic Disney villain-- is the only one that's already been shot. The Muppets 2, starring Ricky Gervais and Tina Fey, is starting production in Europe this week, and Pirates of the Caribbean 5 recently brought on a new screenwriter, which likely puts it a little while away from shooting. As for "1952," the top-secret project from director Brad Bird and writer Damon Lindelof with George Clooney maybe starring, that whole thing is so under wraps we didn't even realize it would be coming to theaters in less than two years.
If you're keeping track of how 2015 is shaping up, this is what we now have for that year: Pirates 5. The Avengers 2. Star Wars Episode VII. Ant-Man. And all of that's just from Disney! Add in new Fantastic Four and Justice League movies, plus potential for Avatar 2, and fans of giant blockbusters had better start saving now to be able to afford all the moviegoing that 2015 will bring.
Staff Writer at CinemaBlend