Pirates Of The Caribbean 5 Needs A Lot Of Women With Big Boobs For Wench Purposes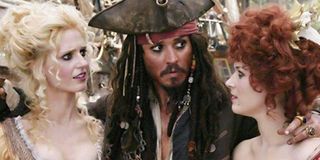 The production of the latest Pirates Of The Caribbean movie is currently on the lookout for busty ladies that are willing to portray wenches for the fifth instalment to the franchise. Dead Men Tell No Tales' casting agent, producer and directors are currently witling down the appropriate candidates, before deciding who will star opposite the regularly intoxicated swashbuckler Jack Sparrow (as always, played by Johnny Depp).
Charne Louise, an ample breasted Australian, has now been talking to Gold Coast Bulletin about the call-out, and she is hopeful that she will be able to impress the powers be with her assets and then take to the film's set. Filming on Pirates Of The Caribbean: Dead Men Tell No Tales started just last month in Australia and Charne Louise has explained that her agent only had two questions for her when the announcement was made, which were, "Are your boobs real? And would you consider yourself busty?"
I know what you're thinking: why do they need to be real? Well, Charne Louise, who has gained fame in her home country as a former contestant on Big Brother and The Voice, was on hand to explain, stating, "They can't have fake ones because the corset would bust them." It's also been revealed that Jerry Bruckheimer (Pirates 5's producer) and its directors Espen Sandberg and Joachim Rønning are more interested in extremely bouncy boobs. Not personally, but for the film. Well, maybe personally. I don't know them.
You can check out the casting call, which came courtesy of Bud Hopes Casting's Facebook page, below:
Pirates Of The Caribbean: Dead Men Tell No Tales has brought plenty of employment to Australia. Locals make up over 75 percent of the crew that are currently working on the film (which is over 850 people) while Australians in the region will also make up most of Dead Men Tell No Tales' 6100 extras too. Between now and the end of production in July even more locals are expected to receive on-set jobs - apparently including busty ones.
The fact that Pirates of the Caribbean: Dead Men Tell No Tales has a budget of over $250 million means that there is a lot riding on the fifth instalment to the franchise, but the fact that the other Pirates Of The Caribbean films grossed a combined total of $3.7 billion suggests that these issues won't scupper its success. We'll wait to see how it all turns out when it arrives in theaters on July 7, 2017.
Your Daily Blend of Entertainment News
Thank you for signing up to CinemaBlend. You will receive a verification email shortly.
There was a problem. Please refresh the page and try again.