Pixar's The Good Dinosaur Cast Includes Bill Hader, Neil Patrick Harris, John Lithgow And More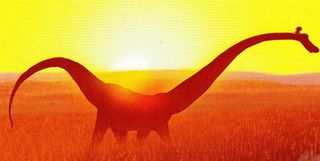 We've long since passed the days when Pixar was famous for casting little-known character actors to be the main voices in their features, but at least the animation studio continues to know how to pick actors we adore anyway. At today's D23 animation presentation-- which Eric has been liveblogging here-- director Peter Sohn announced the voice cast for The Good Dinosaur, the animated film that's due May 30 next year. A family of dinosaurs is at the center of the story, with the youngest named Arlo as our hero, voice by Lucas Neff. His father, Poppa, is voiced by John Lithgow, with Momma brought to life by Frances McDormand. Bill Hader, Neil Patrick Harris and Judy Greer round out the cast as Arlo's siblings, and Neff, Greer and Hader were all onstage at the presentation to talk about the film. The film takes place in a world in which the asteroid that killed off the dinosaurs never happened, and humans live alongside dinosaurs. Still, just like the toys in Toy Story or the bugs in A Bug's Life, the dinosaurs of The Good Dinosaur are still the focus of this world that also includes humans. In the footage shown off at D23 the dinosaurs were depicted like farmers, or more like farm equipment, digging ditches and clearing down trees and otherwise participating in the way humans transformed the earth. In a bizarre twist from the footage that seems impossible to understand without actually seeing it, Arlo discovers a bug that is terrorizing his crops… and finds out the bug is actually human?
After sequels like Cars 2 and Monsters University, and particularly this weekend's lame spinoff Planes, an original, possibly bizarre Pixar movie sounds like exactly what we need to fall in love with the studio all over again. The concept behind The Good Dinosaur is intriguing, and maybe even a little surreal… and the superb voice cast doesn't hurt. Neff is the only really unknown of the bunch, but with a role on the critically beloved Raising Hope-- and the Pixar stamp of approval, of course-- we'll grandfather him with the rest of the cast we want to hang out with every single day for the rest of our lives.
Stay tuned for more updates from D23 and more detailed info on what we learned about The Good Dinosaur!
Staff Writer at CinemaBlend