Pixar Scaling Back On Sequels, Re-focusing On Original Stories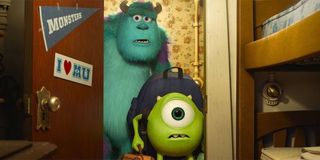 Between the years of 1995 and 2010 Pixar released eleven feature films. None of them received less than a 74% rating on Rotten Tomatoes, most averaged well into the 90s. They racked up an impressive list of awards and accolades, quickly solidifying as not just the best animation studio in Hollywood, but maybe also the best story tellers in the movie industry. That run ended in 2011 with the release of Cars 2.
To put it kindly, Cars 2 wasn't good. And their subsequent films haven't been as good either. While the studio's offerings continue to make gobs of cash, nearly everyone agrees they aren't as good as they once were. Even they seem to see that there's a problem. So they're making changes.
Pixar Animation Studios president Ed Catmull tells Buzzfeed that the studio plans to significantly scale back on its production of sequels. It was an over-emphasis on sequels which got them in trouble, in the first place.
In the past the Pixar team had been adamant that they'd only make sequels if they had a story which demanded to be made. That resulted in Toy Story 2 and Toy Story 3, each movie better than the last. Somewhere along the way that policy fell by the wayside and they started just making sequels that seemed like they'd be profitable. Whatever you think of Monsters University (most seem to agree that it's at least sort of OK) it's hard to make a case for a Revenge of the Nerds style knockoff being a story that demands to be made.
So Pixar is changing their ways and now promises to get back to telling original stories. That is, after all, why we loved them in the first place. This couldn't have been an easy decision. Their most recent efforts haven't been particularly good, but they've been huge moneymakers. Cars 2 with its deplorable 39% rating on Rotten Tomatoes made more than half a billion at the box office worldwide. But Catmull says…
That might seem noble, but I think it's a financially sound decision, too. Sure their unnecessary sequels have been making gobs of money, but they're also damaging their reputation. That may not hurt them this year or even next year, but it will hurt them eventually. In the long run they'll end up making less money, because of it. For Pixar to keep being Pixar, they need to refocus on what it was that made them great in the first place: Original storytelling.
That doesn't mean Pixar will stop doing sequels. They still have their Finding Nemo follow-up, Finding Dory on the schedule for November 25, 2015. They're just going to focus less on them. Camull says, "We're going to have an original film every year, then every other year have a sequel to something."
Normally Pixar only releases one movie a year, but because they're now committed to releasing an original movie every 365 days, they're also releasing the original film Inside Out on June 19 in the same year Finding Dory hits theaters.
Here's a full list of what Pixar has coming. Note that as of now, Finding Dory is the only sequel on it, though it's a sure bet that at least one of those Untitleds in 2017 will be one…
Of course just because they're original stories doesn't mean they'll be good. Brave, released last year, was an original story and it still had all that terrible stuff with the bear in it...
Your Daily Blend of Entertainment News