The Pixels Trailer Has Pac-Man On A Rampage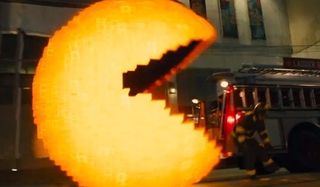 The first trailer for Pixels has arrived! Seeing an enormous Pac-Man roll through the streets of New York on the rampage is enough to bring a smile to the face of even Adam Sandler's biggest critic. You can watch and enjoy below.
Interesting. Very interesting. There's plenty of good about Pixels' debut trailer. There are a few laughs, while the supporting cast looks stellar and the visuals look stunning.
The film's basic plot suggests that Pixels could follow in the path of both Wreck It Ralph and The Lego Movie. Based on the 2010 viral video that depicted Donkey Kong and Pac-Man destroying New York, Pixels is set to reimagine these iconic video games characters from yesteryear in a fresh, albeit slightly evil fashion. Its trailer actually featured a rather splendid explanation of the film, which read:
Thus, Pac-Man can be seen rolling down the street attacking the world and its civilians, while Donkey Kong and Alien Invaders are also going hell for leather on terra firma too. It's not something you'd expect to see. As Adam Sandler questions, "Pac-Man is a bad guy?"
Kevin James is playing President William Cooper, who -- after Pac-Man et al beam down to earth -- calls upon his childhood best friend Sam Brenner (Adam Sander) to defeat the aliens and save the world. Alongside James and Sandler are Josh Gad and Peter Dinklage, who, like them, are old-school gamers. Jane Krakowski will portray the first-lady, who also had a previous relationship with Sandler's Brenner, while the rather impressive cast is then rounded of by Michelle Monaghan, Brian Cox, Ashley Benson and Sean Bean, each of whom usually instantly improve anything that they star in.
Will Pixel's intriguing plot and stellar supporting cast be able to counteract Adam Sandler's recent cold streak? Normally, you can tell by a director, but Chris Columbus' career has ranged from the delightful Home Alone to the disappointing Bicentennial Man; so, for now, all we can do is hope.
The fact that it's produced by Happy Madison Productions and written by Tim Herily (Grown Ups 2, Little Nicky) and Timothy Downing (Role Models, Just Go With It) makes me very nervous. But, for the moment, I'm hopeful, because Pixels' debut trailer hasn't made me total dismiss it. And for a big-budget Adam Sandler led comedy that's a rarity. Pixels will hit cinemas on July 24, 2015.
Your Daily Blend of Entertainment News
Thank you for signing up to CinemaBlend. You will receive a verification email shortly.
There was a problem. Please refresh the page and try again.