Poltergeist Remake Eyes Rosemarie DeWitt For Female Lead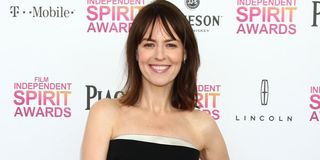 In the endless saga of films that are remade and updated and churned through the Hollywood recycling machine, Poltergeist is one of the few that doesn't earn immediate eye-rolls. The Tobe Hooper (or was that Steven Spielberg?)-directed horror film is a classic, of course, inspiring two sequels and dozens of similar ghost stories, but it's also simple enough that it could easily be reshaped, especially from a director with a specific idea of what to do with it. Gil Kenan, who previously made the animated Monster House for Spielberg, is apparently that director, and he's now rounding out the cast that will help him revise history when shooting starts this fall.
Rosemarie DeWitt, star of Your Sister's Sister and Rachel Getting Married, is now the top choice to play the female lead in Poltergeist, according to Deadline The role, of course, is the mother of the family cursed to live in a house haunted by spirits-- in the original film she memorably travels into the alternate dimension where their daughter, Carol Anne, has been transported. Early reports about the plot of the new film suggest that the mother role will be even bigger this time, and DeWitt, if she takes the part, will be charged with communicating with the spirits, in addition to doing the customary screaming that happens in movies when people are haunted by malevolent ghosts.
DeWitt, who has a great role in Lynn Shelton's upcoming Touchy Feely, was also seen recently opposite Matt Damon in Promised Land and in the critically beloved Your Sister's Sister, also directed by Shelton. As it turns out DeWitt is married to Ron Livingston, who stars in the smash hit The Conjuring and could probably give his wife a few pointers on surviving a haunted house. DeWitt is an actress who's done so much good work in so many different films that it seems crazy she's not a mega-star by now-- where was her Oscar nomination for Rachel Getting Married, eh?-- and, let's be real, a role in a Poltergeist remake is not necessarily going to get her there. Then again, thanks to The Conjuring, Vera Farmiga-- another actress who by all rights ought to be the most famous person int he world-- now has a franchise. The Poltergeist has all the potential to get there too.
Revisit the scares of the original Poltergeist with the trailer below, and share your own predictions for how they'll up the ante in the remake.
(Rosemarie DeWitt photo via Helga Esteb (opens in new tab) / Shutterstock.com (opens in new tab))
Staff Writer at CinemaBlend
Your Daily Blend of Entertainment News
Thank you for signing up to CinemaBlend. You will receive a verification email shortly.
There was a problem. Please refresh the page and try again.