New Poster For Blue Valentine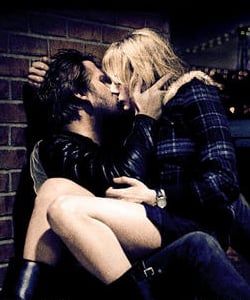 Blue Valentine has certainly taken its time finding its way to the big screen. As an official selection at both Sundance and Cannes garnering seriously great reviews, I expected to see the Weinsteins get this sucker out ASAP so they can put a little money in their pockets, but it's only set for release at the end of December, just before the cut-off for consideration in this year's Oscar race.
The film stars Ryan Gosling and Michelle Williams in what have been widely accepted as career making roles for two actors with already amazing resumes. It looks to tell their disintegrating love story as their marriage evolves, a gritty, real look at what it is to be together in this day and age.
The new poster has been released over at Yahoo! Movies and while it's not flashy, neither is the film. It's a dramatic poster, heavily vignetted, but the titling gives it enough of a fun feel to match the inevitable scenes in the film where the relationship is actually going well. Look for a limited showing of Blue Valentine December 31st; limited not because indie supporter Harvey Weinstein doesn't want to put it into theaters, but because somehow this film landed itself an NC-17 rating from the generally out of touch MPAA. Expect more on that as the film nears release, and until then, check out the hang-upable poster below.
Your Daily Blend of Entertainment News