Poster: George Clooney Goes Up In The Air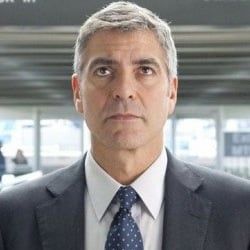 Jason Reitman's next film Up In The Air will be debuting in a few weeks at the Toronto Film Festival, but it's already got some of the biggest hype of any fall movie. Anonymous reviews have floated around online calling it brilliant, and those who have read the script says it has all the framework of something great.
While it'll take at least a trailer to start confirming the buzz, a new poster doesn't hurt things. In Contention has it (originally from Empire), and you can see it below as well. It's strange that Clooney's name is the only one up top, with Reitman credited only as "The director of Juno." Otherwise it seems a good fit for a movie about a man who isolates himself through air travel, and two women (Anna Kendrick and Vera Farmiga) who seem able to bring him back to earth.
UPDATE: Slashfilm has the U.S. poster debut, which is just slightly different from the UK version that Empire had; it's included below as well. You can head over there to also see the larger version of the image above, the first production still from the film.
Staff Writer at CinemaBlend
Your Daily Blend of Entertainment News
Thank you for signing up to CinemaBlend. You will receive a verification email shortly.
There was a problem. Please refresh the page and try again.