The New Power Rangers Movie Is Actually Happening Sooner Than We Thought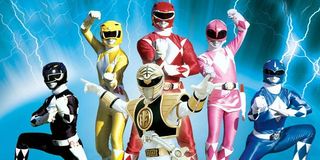 Go, go, Power Rangers… movie! The announcement of a new live-action movie around our favorite group of morphing teenagers with attitude sent all of the franchise's diehard fans (including this reporter) into a frenzy. Not much has been revealed about the film, other than it promises to be a re-envisioning of the characters, but it's set for release on July 22, 2016. While no director or cast has been announced, the film is still on track to kick everything off this year.
The latest Power Rangers development comes from a mainstay of the franchise: Jason David Frank. Known for playing the original Green (and then White and Red) Ranger, he's constantly involved with Power Rangers-themed events. More importantly, he's in constant contact with Lionsgate and Saban Entertainment, which are releasing the upcoming movie. During an interview with ComicBook.com, Frank said:
We reached out to Lionsgate for clarification on his statement, and they confirmed that the release date for the film is still the same. Though they didn't confirm Frank's statement, it seems as though he's referring to the production start time instead of an earlier release date. However, we're glad to hear that everything is still on track despite a few upsets. Roberto Orci, who's been on the Star Trek production team with J.J. Abrams and was thought to direct Star Trek 3 for a while, was put on Power Rangers as an executive producer. He eventually dropped out, as his work on Star Trek took precedent over anything going on in the Ranger-verse. It still has X-Men: First Class co-writers Ashley Miller and Zack Stentz on board, and those two turned out one of the best X-Men movies.
Furthermore, Orci promised back in the day that, after reading through the entire story treatment, they wouldn't ruin the Power Rangers franchise. There's too many fans who watched it when they were kids and don't want to see their childhood heroes ruined. Everyone involved certainly recognizes this, and Orci had even said that the film will have some continuity with the original series. Of course, he couldn't say anything more.
No one has been officially announced as the director or in the cast yet, so if Lionsgate is planning on getting this work up and running, they've gotta step up their game. Frank, though, is rumored to be involved in some capacity. As he continued saying to ComicBook.com, the studio feels "there's no movie, at least, without [him.]"
Your Daily Blend of Entertainment News