Prisoners Director Denis Villanueve To Helm The Story Of Your Life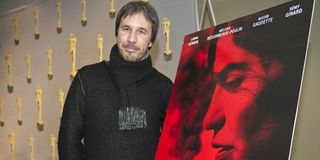 There's no way Prisoners should have worked. The moody drama was a hot script around the industry, but big names kept getting involved before dropping out, and several directors had left the project rudder-less. Ultimately, the story was boilerplate television procedural mixed with Invincible-Serial-Killer tropes, meaning that it could have been a disaster in the hands of a less-abled filmmaker. Fortunately, the property was wrangled by Denis Villenueve, and he produced a confidently long (two and a half hours!), spooky, ultimately crowd-pleasing thriller that actually almost entered the Oscar conversation.
Now, Villenueve is entering some rarefied air, dipping into the Black List once again for another acclaimed script. According to The Hollywood Reporter, he'll be directing The Story Of Your Life, based on a 1998 novella by Ted Chiang. The story revolves around a female linguist who is called into action when alien crafts land all over the world. Instead of everyone blasting each other into bits, she's asked to attempt to communicate with the visitors. Only then does she learn disturbing facts about their past and her future.
The script is from Eric Heisserer, who just made his directorial debut with the Paul Walker drama Hours. You hate to label screenwriters and blame them for their work, since they often collaborate with many others, and their scripts often undergo tinkering long after they've left certain projects. But Heisserer's resume is rough: his first film credit was on Platinum Dunes' A Nightmare On Elm Street redo, which somehow got him the job penning that questionable prequel to The Thing that was also sort of a remake, but more of a prequel, until it was a remake, which is was when it wasn't being a prequel, which was often. In between those films his name also ended up on Final Destination 5, and with no other credits to his name… well, shoot, he's probably a nice guy.
The material is heady enough to have garnered Chiang a Nebula Award, and is revered for its insights on the world of linguistics, and the study of how the structure of language can affect one's cognitive process. Villenueve, who re-teams with Jake Gyllenhaal for Enemy later this year, is no stranger to headier material: his Incendies was a lightning rod for attention, but many don't discuss his unsettling Polytechnique, which dealt with a horrifying mass shooting in a manner both tasteful and horrifying. Villenueve found the humanity and complexity in a rote serial killer thriller, so maybe he is the guy to find some intrigue in the so-far dubious work of Mr. Heisserer.
Your Daily Blend of Entertainment News
Thank you for signing up to CinemaBlend. You will receive a verification email shortly.
There was a problem. Please refresh the page and try again.