The Purge Sequel Gets A Title, Teaser Trailer Arriving Tomorrow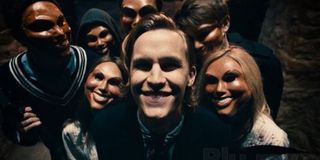 Following the Blumhouse model of combining horror with compelling stories, low-budgets, and admired stars, the $3 million movie The Purge proved a big hit last year, pulling in an impressive $89 million worldwide. Within days of release, a sequel was announced. Now we have a title, and it's one that promises the murderous mayhem of the first film will be knocked up a few notches. Coming to theaters this summer will be The Purge: Anarchy.
Shock Till You Drop dropped this new name along with a promise that a minute-and-a-half long trailer will hit tomorrow. That trailer will not only give us our first look at this anticipated sequel, but also will reveal its MPAA rating. The Purge was rated R, and I'm betting that Blumhouse will keep part two plenty gory to appease the blood-thirsty fans of the first flick.
While it was a hit with audiences and offered great return on investment for its makers, The Purge was loathed by critics, earning a Rotten Tomatoes score of only 37%. Our own Sean O'Connell called it, "a despicable, ugly and valueless exercise in hate, that purges all potential out of its interesting, original concept." And while I totally see Sean's point, I actually have high hopes for The Purge: Anarchy because it's playing on the first film's strongest aspect: the fascinating setting.
It's the not-so-distant future, where America is still a land of haves and have-nots. But the U.S. is more peaceful than its ever been before because of a yearly event called "The Purge." For one 12-hour span, every conceivable crime is completely legal. Robbery, murder, rape is all endorsed as a form of release, resulting in a calmer, nearly crime-free society for 364 days of the year. Of course, this impacts some areas more than others.
Watching the film, I realized instantly how this purge would hit urban areas--where people live on top of each other--far harder than suburbia and the gilded gated communities therein. But that is where the first film takes place, focusing on rich folk who essentially cannibalize each other over petty jealousies. This is where the first movie lost me a bit. My mind kept wandering to what was happening in less affluent areas where people didn't have money to fund massive home security systems? Well, that is exactly what The Purge: Anarchy is all about. According to the sequel's star Zach Gilford, this new movie will move the focus to an urban environment that devolves into a war zone during this twisted national holiday. He told Fangoria:
Tomorrow we'll see what this different angle looks like.
The Purge: Anarchy will hit theaters on June 20th.
Staff writer at CinemaBlend.
Your Daily Blend of Entertainment News
Thank you for signing up to CinemaBlend. You will receive a verification email shortly.
There was a problem. Please refresh the page and try again.