Horror And Raunchy Comedies Dominate 2013 Most Profitable Releases List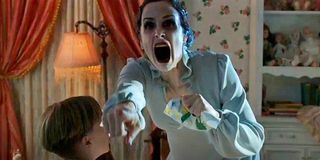 When it comes to the highest grossing film of 2013, that title went hands down to Iron Man 3. With $409 million domestic and $806 international, the third adventure in the Tony Stark film series beat out the competition with a massive $1.2 billion haul. But when it comes to the most profitable films of 2013, Iron Man 3 came in 9th place. How's that? Allow us to break it down.
The "highest grossing film" title goes to the movie that pulled in the most at box offices worldwide. However, this honor doesn't take into account how much the film cost to make. If you deduct the production budget (in the case of Iron Man 3, an estimated $200 million) and the expensive fees of marketing all over the world, the remaining number is known as the movie's ROI, return on investment. The Wrap looked over the big successes of the year to uncover which movies had the greatest payoffs, or ROIs. And the final list might surprise you: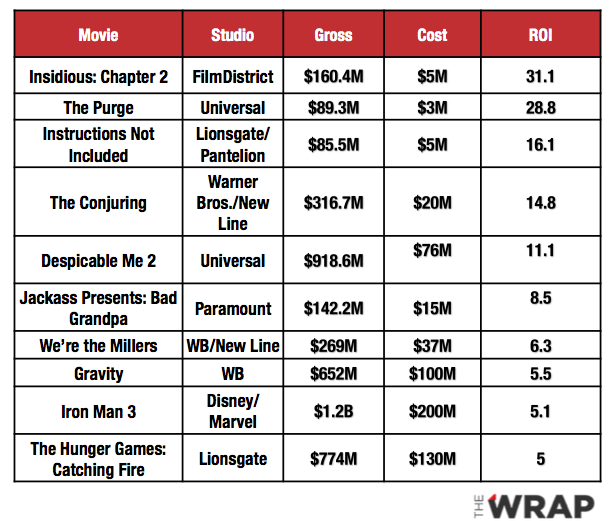 For reference, the highest domestic grossing films of 2013 according to Box Office Mojo are:
1. Iron Man 3
2. The Hunger Games: Catching Fire
3. Despicable Me 2
4. Man of Steel
5. Monsters University
6. Gravity
7. Frozen
8. Fast & Furious 6
9. Oz: The Great and Powerful
10. Star Trek Into Darkness
This list is far more predictable, made up of tent pole releases and plenty of sequels from thriving film franchises. But with these big releases came massive budgets and print and advertising costs that had to consider/attract audiences around the globe through online ads, billboards, posters, and TV commercials. So while these movies made boatloads of money, they weren't necessarily as profitable as a low-budget film that won mass appeal.
Iron Man 3, Catching Fire, Gravity and Despicable Me 2 snagged spots on both lists, but noticeably the top 2 on one are the bottom two on the other. Strikingly, Insidious: Chapter 2 has a ROI 6 times that of Catching Fire, which has already surpassed the box office totals of its wildly successful predecessor. Other horror titles like The Purge and The Conjuring also made the top four, which is less shocking when you consider they are each made under a similar principle.
The sequel to James Wan's horror hit Insidious cost just $5 million dollars, but focused intently on building out the story that had so enticed people in the first film. When I interviewed the feature's producer Jason Blum, he confessed that story was the main focus for his frightening films. Couple that with a great cast and keenly created scares, and audiences won't miss the flashy benefits bigger budgets might bring. Blum used a similar method in producing the $3 million production The Purge. The other Wan release of the year, The Conjuring, was far more expensive at $20 million, but with a worldwide gross of $316.7 mil, it still was smartly made.
R-rated comedies also made their stand here, with Bad Grandpa and We're the Millers scoring with mid-range budgets and grosses of $142.2 mil and $269 mil respectively. The other surprise is Instructions Not Included, a comedy directed by and starring Mexican comedian Eugenio Derbez. This movie you may have never heard of came out of the gate strong in its opening weekend. Released in a little more than 500 theaters (versus wide releases of 2,000 +), it nonetheless earned the #5 spot at the box office that weekend. Aside from breaking Mexican box office records, the film became an unqualified hit Stateside, further proving that Latino audiences are motivated moviegoers demanding properties that respect them. So in the end, ROIs appear to be less about total grosses than about knowing your audience.
Staff writer at CinemaBlend.
Your Daily Blend of Entertainment News
Thank you for signing up to CinemaBlend. You will receive a verification email shortly.
There was a problem. Please refresh the page and try again.