Puss In Boots 3D Dominates Friday Box Office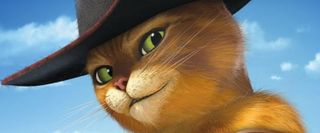 Last weekend Paranormal Activity 3 managed to surprise a lot of people by scaring up enormous box office and ending a slump that had been plaguing Hollywood since early August. This weekend the box office is once again in better shape, but it's far less of a surprise. DreamWorks Animation is releasing a spinoff from their massively successful Shrek franchise, Puss in Boots, and exactly as they expected, it's the big hit of the weekend.
Right now, according to Deadline's estimates, its $9.8 million Friday haul sets it up for a $37 million opening weekend, right on par with the year's other non-summer animated releases Rio and Rango. It's nothing compared to the $70 million opening for Shrek Forever After, but hey, everyone starts somewhere. Puss sits easily on top of the Friday box office, followed by last week's champ Paranormal Activity 3, at $7.3 million. Considerably further behind both of them is In Time, Justin Timberlake's first-ever action vehicle that's estimated for a $13 million weekend box office. That might be enough to make it Timberlake's last action vehicle too.
As for the other new releases, Johnny Depp's The Rum Diary is fighting Footloose for fourth place with an estimated $5 million weekend, while Anonymous, in somewhat limited release, is on track for $1 million for the weekend and a middling $4,200 per-screen average-- apparently people aren't that interested in learning whether Shakespeare was a fraud. We'll have the full weekend numbers for you tomorrow, but in the meantime, let us know if you're seeing any of these new movies this weekend.
Staff Writer at CinemaBlend
Your Daily Blend of Entertainment News
Thank you for signing up to CinemaBlend. You will receive a verification email shortly.
There was a problem. Please refresh the page and try again.