Quentin Tarantino, Chris Nolan & J.J. Abrams Save Film From Extinction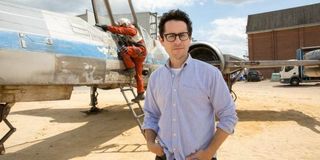 Digital filmmaking has overtaken analog, but there are some directors who refuse to let film stock die out. And so Hollywood studios are stepping in to lend support to Kodak in its time of crisis.
Following Fujifilm's shutting down its film stock production last year, Kodak is the only company left that still makes the nearly obsolete medium. However, powerful directors like J.J. Abrams, Christopher Nolan, Quentin Tarantino and Judd Apatow have joined forces to save Kodak from the brink of extinction. Together--with the help of some unnamed allies--they pushed Hollywood studios to step in and financially support Kodak so that film stock can continue to be made and processed. This will include keeping open Fotokem, the last film processing lab in Hollywood.
THR reports that Kodak CEO Jeff Clarke declared in a statement:
Nolan has long been a vocal defender of analog film, and spoke about his and his dedicated director of photography Wally Pfister's passion for shooting on film in the documentary Side by Side. For a pretty comprehensive understanding of how analog film differs from digital film, I recommend watching that doc, as it speaks to a wide array of directors, editors, cinematographers, and colorists. It's now streaming on Netflix. (opens in new tab)
So the directors behind Star Trek Into Darkness, The Dark Knight, Django Unchained and The 40-Year-Old Virgin have used their considerable Hollywood pull to extend the life of analog film. But it's unknown how long this reprieve will last. Kodak's profits have fallen 96% over the last ten years, and could continue to decline as more and more movie theaters convert to digital projectors to keep up with the times. Despite filing for bankruptcy last fall, Kodak is dedicated to keeping their film stock production going as long as possible. But this may only extend a few more years.
In the meantime, enthusiasts of film will be glad to know that Christopher Nolan's Interstellar was shot on film. Quentin Tarantino is promising The Hateful Eight will be shot in 70mm. And now in-production Star Wars: Episode VII is also shooting on traditional film stock. Could J.J. Abrams' choice for Star Wars' seventh installment suggest that its sequels will follow suit? Only time will tell.
To see a trailer for the informative and fascinating Side by Side, click to the next page:
Your Daily Blend of Entertainment News
Staff writer at CinemaBlend.
Your Daily Blend of Entertainment News
Thank you for signing up to CinemaBlend. You will receive a verification email shortly.
There was a problem. Please refresh the page and try again.