Read Alan Rickman's Heartfelt Goodbye To Harry Potter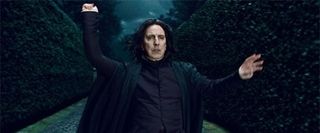 My perspective on the Harry Potter franchise is almost wholly unique, in that I seem to be the last person on planet Earth who hasn't read the books. For me it was part deliberate choice to experience the movies that way, and part disinterest in Rowling's writing style (I made it about halfway through book one before getting bored). But whatever the reason, after this summer I'll have made it through the entire franchise with the Harry Potter films being my one and only window into this universe. While you're wondering how your favorite characters will be portrayed, for me each and every moment is brand new. And I've never understood why they don't do more with Severus Snape.
We're all saying goodbye to the Harry Potter franchise later this year, but Alan Rickman said his goodbyes to the wizarding world this April (2011). After finishing his very last piece of work on Harry Potter and the Deathly Hallows, Rickman wrote this letter to Empire Magazine (via Buzzfeed) as his way of saying goodbye to the world we've seen him so fully inhabiting on screen all these years:
To an outsider like myself, Snape's really the only truly interesting character in the entire Harry Potter universe. He broods and slinks his way around Hogwarts, sometimes helping, sometimes hindering… you're never entirely sure what's going on inside his head. But I want to know. That's really the only thing I want from Deathly Hallows Part 2 when it arrives this July. Tell me what Snape's been thinking all this time. Potter fans, please don't tell me if I'm about to be disappointed.
Snape is a brilliant character in large part because he's played by Alan Rickman. Rickman is one of the most underrated actors in the history of Hollywood and if you've ever heard him speak in person, you know he's a pretty fantastically engaging public speaker too. Apparently he's also a skilled, heartfelt, letter writer.
Your Daily Blend of Entertainment News
Thank you for signing up to CinemaBlend. You will receive a verification email shortly.
There was a problem. Please refresh the page and try again.