Real-Life Batman And Captain America Save Cat From Burning Building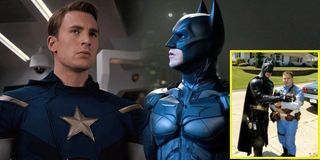 First an old-school Batman was collaring criminals in the UK. Then a wannabe Kick-Ass attempted to make the streets of a small Pennsylvania town safe through ninja running. And over the weekend, Batman and Captain America joined forces to rescue a cat from a burning building in West Virginia. It may not be the DC/Marvel team-up comic book lovers have dreamed of, but this true story is still pretty sweet.
WSCHSTV, a news site that covers parts of Ohio, West Virginia, and Kentucky, reported that when firemen in Milton, VW arrived at the scene of a house fire they discovered two men—one dressed as Batman, the other as Captain America—beat them there. John Buckland (Batman) and Troy Marcum (Captain America) were appearing nearby at an American Legion Post event for children as part of their "Hero 4 Higher" business. Dressed as beloved superheroes, the two were there to teach children valuable life lessons. But when they spotted smoke, Buckland and Marcum went from cosplayers to real heroes as they rushed to the on-fire house to rescue anyone who needed it.
It turns out the couple who lived in the Church Street address was out, but their pet cat was home and in need of a way out. Captain America (Marcum) broke a window to get entry to the home, and Batman (Buckland) reached in and pulled out the smoke-addled feline. The cat—whose name is not mentioned in the report—also needed to be resuscitated, so Batman boldly took that on in a scene that probably looked nothing like this:
Funny enough, like Catwoman the cat was deeply resentful. Once it was revived, it attacked Batman. "The cat comes around," Buckland said. "Takes a look at me, then hissed!" But he gets the cat's wariness, adding, "He got resuscitated by Batman, that's a pretty scary thing to wake up to!" Here's Buckland impersonating what the cat looked like when it woke up:
You can see the video interview with Buckland below:
Local firefighters did manage to put out the fire, and no one was hurt. While Marcum and Buckland should definitely be commended for their daring-doings here, it's worth noting that Buckland has training for this sort of thing. Before he started Hero 4 Higher, Buckland served in the military, was stationed in Iraq, and is a former firefighter. So as ever, don't try this at home.
Your Daily Blend of Entertainment News
Staff writer at CinemaBlend.