The Real Locations Of Sex And The City - Pt 1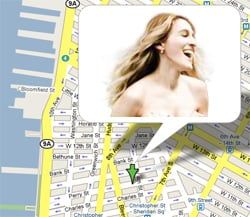 Some of the locations seen on Sex and the City are so iconic they're not even worth describing. We'd all seen the Plaza Hotel before Carrie confronted Big there right after his wedding, and everyone knew what a big deal it was when Trey proposed to Charlotte outside of the classy jewelry store Tiffany's.
But there are other locations in New York that weren't landmarks until Sex and the City made them famous-- and some that won't be well-known until the movie comes out on May 30. After spending last fall running into the Sex and the City movie production from time to time, and following as much gossip as I could online, I've assembled a list of shooting locations from both the show and the movie. Some are already stalwarts for any Sex and the City tour, but others are New York favorites that may also, God forbid, become tourist favorites once it becomes known that Carrie & co. ate there.
Throughout this week, leading up to the release of Sex and the City, we'll take you on a tour of the rea-life places of Carrie Bradshaw's world. Check in tomorrow for more locations, photos, and some real-life recommendations from when your dreams are Sex and the City glamorous, but your wallet is as thin as a pair of stiletto heels. For now, here's part one of Cinema Blend's Sex and the City guided tour:
The SATC Angle: Let's start with a location that looks entirely mundane, unless you were there the day that flocks of trailers and production assistants turned this pretty corner into complete chaos. Yes, this is the Starbucks nearest to my office, and yeah, I kind of did want a latte the day they shut the whole thing down to shoot Sex and the City: The Movie. According to rumor, at this Starbucks Carrie interviews a series of women to be her assistant, before settling on Jennifer Hudson. If the trailer is to be believed, J-Huds gets the job by telling Carrie she has moved to the city to find love, which is an idiotic reason to move anywhere, but hey, this is Sex and the City after all.
The Better, Real-Life Option: Why drink Starbucks when, just across the street by the entrance to the 6 train, there's the bright orange Mud Truck? Cheaper, better coffee, cuter baristas, and there's usually a jazz band playing right next to it, competing with the music from the truck-- but that's the fun! Also stop by the big, black cube in the middle of Astor Place, and try to give it a spin. I promise that's not just a myth New Yorkers tell tourists to make them look dumb.
The SATC Angle: The show's production actually used about five different stoops over its lifetime, but this was the one used most frequently, and the one that's a stop on the infamous Sex and the City bus tour. You've seen Carrie trip up it, flounce down it, chat with Big and other boyfriends on it. You can't actually sit on it-- the residents have put up a chain discouraging rubberneckers just like yourself-- but photos are possible. Be discreet about it though-- the West Village is still just about the nicest neighborhood in New York, and you don't want to go about ruining it, now do you? I have no idea if this spot will actually be used in the movie, but I'd say odds are good. What would a Carrie outfit be if you couldn't see her emerge from her front door wearing it?
The Better, Real-Life Option: Like I said, you can't sit on this stoop any more, and seriously, don't even try. Perry Street, and most of the other streets in the neighborhood, feature rows and rows of buildings with stoops where you can probably rest for a minute or two without getting into too much trouble. One spot you probably can't sit, though: Sarah Jessica Parker's house, just around the corner on Charles Street. Something tells me she's got a security detail that would make fast work of you, tired feet or not.
The SATC Angle: The garden behind this unmissable building is the spot where Miranda and Steve got married in season 6, after Miranda's shopping bag fell apart right in front of the garden. "We're not boat people, we're bag people!" Miranda said once they made their decision. Really, it's hard to imagine not wanting to get married there-- the big oval of grass is surrounded by narrow pathways, snug benches and all kinds of gorgeous flowers, especially this time of year. You're not allowed to stand on the grass the way Miranda and Steve did, but you're also not allowed to rock short hair as well as Cynthia Nixon does; them's the breaks, kid. There's no telling if this garden will be featured in the movie-- my guess is not-- but the Jefferson Market Library is a visual touchstone in the West Village, which is home to so many Sex and the City moments.
The Better, Real-Life Option: It's hard to beat the garden for inner-city peace and quiet, and it's worth a stop in the library as well-- but only if you know your history. The building was originally built as a courthouse, on the site that had once been the town market. And where the garden now stands, there was once a women's prison, apparently the world's only art deco prison at the time. Legend has it that the women would taunt passersby from their windows-- something to keep in mind as you stroll the peaceful paths, but probably not something you want to imitate. Greenwich Village is quieter than it used to be, and despite the remaining hardcore sex shops, the neighborhood definitely has its limits.
Read The Real Locations Of Sex And The City PART 2 here.
Image 1 of 4
Image 2 of 4
Image 3 of 4
Image 4 of 4
Staff Writer at CinemaBlend
Your Daily Blend of Entertainment News
Thank you for signing up to CinemaBlend. You will receive a verification email shortly.
There was a problem. Please refresh the page and try again.