Reality Check: Clive Owen Won't Take Over As James Bond Because Daniel Craig Is Gay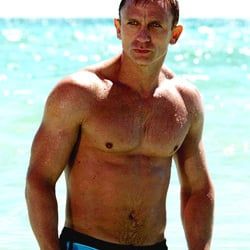 Get your hip waders out because we're about to find ourselves deep in the worst kinds of sewage. Celebrity gossip sewage. We're in these tunnels because there's a pretty wild rumor swirling around the internet that Daniel Craig may not be playing Bond after the completion of the upcoming Bond 23. The reasoning? Because he's gay.
At least that seems to be the notion not so well hidden within the subtext of a piece of gossip-mongering in one of the always quantity over quality Examiner's local pages. In particular it's from a once marginally well known film critic from Pittsburgh who claims to have inside information on the next James Bond movie, indicating that Daniel Craig won't be part of it. Why would anyone in Pittsburgh of all places have this information? They wouldn't.
You should be even more skeptical because the story claims that Bond producers, the Broccoli's, want Daniel Craig out specifically because of a pair of incidents. First there was a comment Craig made after Casino Royale here. The Examiner misrepresents his statement in their rumor to make it seem as though Daniel Craig "suggested the time was right for Bond to explore gay relationships." That's untrue. What actually happened is that when asked if he would mind a gay Bond he said, "Why not? I think in this day and age, fans would have accepted it. No one would bat an eyelid."
Second, there was an incident earlier this summer which the Examiner misrepresents as a mysterious photo, which they seem to be hinting showed Craig engaged in something scandalous with another man. What actually happened was that earlier this summer there was this questionable report from the even more questionable National Enquirer in which they insist they saw Daniel Craig "smooching" with a gay friend outside a bar. Assuming that's true, which it probably isn't, if the Broccoli's were to ditch Craig for that reason it'd make them insanely homophobic. In response he would likely sue or at the very least speak out about it, so we could line up behind him and boycott James Bond, forever.
This whole notion makes even less sense when you hear that the Examiner's report insists Clive Owen is the man they're looking to replace Daniel Craig with. Clive Owen, back in 1997, starred in a movie called Bent, in which he plays a gay man sent to the concentration camps by Hitler's Nazis, only to fall in love with a fellow gay prisoner. So what this story's saying is that the Broccolis are homophobic and they think Daniel Craig may have once done some gay stuff, so they're firing him and hiring a guy who did a movie in which he definitely did gay stuff on screen. That just doesn't make sense. Toss this rumor in your circular file.
Your Daily Blend of Entertainment News