The Really Clever Way Disney Is Going To Promote Star Wars 7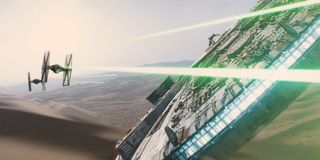 The Star Wars: Episode 7 universe is about to be busted open like never before. While the franchise expanded to include novels, comic books, video games, action figures and a spin-off animated series, Disney has now made a deal with a major YouTube channel operator to branch out into the digital realm.
While you probably have never heard of Maker Studios, you might have seen one or two of their YouTube series. It's the largest operator of YouTube channels on the Web right now, and it incorporates a variety of shows like the style-centric The Fashion Statement to the geek-friendly Friend Zone. According to Bloomberg, they've made a deal with Disney to create Star Wars-themed content covering everything from Star Wars fashion to games. And Disney is paying upwards of $450 million for it, assuming the content does well.
The idea behind this move is to embed the same love the majority of us feel for the galaxy far, far away within a new generation -- or as Bloomberg refers to them, "viewers who weren't born when the first film, A New Hope, opened in 1977." It is crazy to think that there are still movie lovers out there who haven't seen the original and prequel trilogies, considering it's been named the most-anticipated movie of 2015, and age is no excuse. But we suppose the selfie-obsessed might've been too busy sending Snapchats to fully appreciate this beloved universe.
It's a brave new world of marketing out there, and companies are starting to wise up more to what drives Internet-fluent communities. Disney and Lucasfilm have been beefing up their digital home base, StarWars.com, with new content, including YouTube video lists about the best bounty hunters, the best Star Wars monsters and the best villains. Rather than releasing exclusive announcements with various media outlets, such as Episode 7 casting, they've also released that information on the StarWars.com blog. This move to incorporate more digital-friendly content works for Disney in two ways: it helps them to (1) build an audience online and (2) maintain an iron grip on the narrative. No need to worry about information getting lost in translation among the media if you are the media.
A next logical step is enlisting the aide of already-established online personalities. These folks are finding fame both on and offline, and they've been utilized more to promote a variety of events. The National Academy of Television Arts & Science hired a few YouTube stars to host of a live stream of the 2014 Daytime Emmys red carpet (with disastrous results), Target has the likes of Internet dancing sensation Todrick Hall selling their merchandise, and iJustine was among a number of YouTube stars off promoting The Hunger Games. The Maker Studios network includes more than 55,000 video channels, which according to ComScore draws more viewers than any other YouTube partner and will surely use Disney's money wisely.
Your Daily Blend of Entertainment News
Thank you for signing up to CinemaBlend. You will receive a verification email shortly.
There was a problem. Please refresh the page and try again.