Star Wars Voted Most Anticipated Movie Of 2015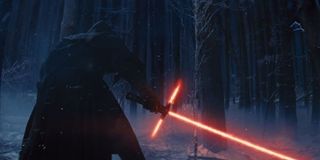 Next year is primed to feature some absolutely huge blockbusters. In 2015, we are scheduled to get all kinds of brand new titles, some absolutely huge sequels, some big series conclusions, and even a couple of rejuvenated franchises. Cinema fans will have a bounty to pick from as they start looking to buy tickets for new releases in theaters. Certainly, though, some films are more anticipated than others – so which ones are the cream of the crop when it comes to next year's features? Apparently, it's J.J. Abrams' Star Wars: The Force Awakens on top, followed by a number of extremely high profile releases.
This info comes to us thanks to the good folks over at Fandango, which has published all kinds of findings discovered from polling fans visiting their website. Earlier today we learned who people think will be the biggest actors and actresses of the coming year, but now it's time to break down the titles.
As mentioned above, Fandango has named Star Wars: The Force Awakens as the most anticipated movie of 2015 – though that should hardly be a surprise given how much buzz has been surrounding the return of the long-dormant franchise ever since it was announced. Sadly, it's also one of the titles that we are going to have to wait longest for, as the movie won't be arriving in theaters until December 17, 2015.
Again, the high ranking of this title is not exactly a shock, as fans have been foaming at the mouth for Joss Whedon's The Avengers: Age of Ultron ever since the credits finished up on The Avengers back in 2012. It will be a sincere challenge for the film to match its predecessor – which remains ranked as the third most successful movie all time – but the amount of buzz behind the sequel should certainly help it come close.
History has shown that the conclusions of epic franchises tend to do quite well at the box office (just take a look at Harry Potter and Twilight movies), and Francis Lawrence's The Hunger Games: Mockingjay – Part 2 isn't exactly expected to break from rank in that department. All of the movies in this series have done incredibly well so far, and as long as the finale doesn't crap out quality-wise, the last chapter should be a slam dunk.
While some will have to wait until summer or late in 2015 to see their most anticipated title of next year, those looking forward to Sam Taylor-Johnson's Fifty Shades of Grey will soon be getting the satisfaction they've been craving since the adaptation of the popular novel was announced. The romantic drama is anticipated to be the big winner of Valentine's Day weekend, and while it may not be as hotly awaited as the big sci-fi and action franchise films of the year, it's still expected to bring in some serous cash.
We started this Top 5 with a reawakening franchise, and apparently we're ending with one as well. In 2015, director Colin Trevorrow will be bringing realistic, live-action dinosaurs back to the big screen with Jurassic World, and with a cast that's headlined by Guardians of the Galaxy superstar Chris Pratt, it's not exactly hard to see why people are excited. Chris Pratt and dinosaurs, guys!
Obviously these are some of the biggest movies that are going to be released in 2015, but is your most anticipated title here? Hit the comments to tell us what you're looking forward to the most.
NJ native who calls LA home; lives in a Dreamatorium. A decade-plus CinemaBlend veteran; endlessly enthusiastic about the career he's dreamt of since seventh grade.
Your Daily Blend of Entertainment News
Thank you for signing up to CinemaBlend. You will receive a verification email shortly.
There was a problem. Please refresh the page and try again.