The Reason The Owners Of The Conjuring Home Are Suing Warner Bros.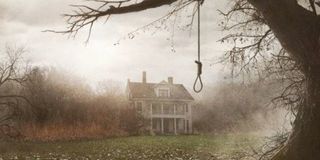 Fans of The Conjuring have become so obsessed with visiting the Rhode Island farmhouse where the movie is set that the people who actually own it are now trying to sue Warner Bros. for making their home a local tourist attraction.
Entertainment Weekly got their hands on court documents that have been filed by Gerald Helfrich and Norma Sutcliffe of Harrisville, Rhode Island, and are against Warner Bros., director James Wan, New Line Productions, the Safran Co., Evergreen Media Holdings, producer Tony DeRosa-Grund, five individual trespassers, and John and Jane Does 1-500. The pair are so livid with the studio and the filmmakers for making a film that was so successful it has inspired a "Conjuring-instigated siege" of their property that they haven't even been able to think of an amount of money that they want in damages.
The suit alleges that ever since The Conjuring was released back in July 2013, Helfrich and Sutcliffe have had to deal with:
Obviously none of that is particularly pleasant to deal with. Especially since their complaint also insists that Warner Bros. made and released the film without notifying them. If that's true, then I have to say that the sneaky little film studio should probably cough up some dough to remunerate the couple for all of the trouble they've been through. However, if the couple were actually recompensed for the use of their house then, hopefully, they were warned of the risks that could come with the film's success. Plus, surely all they need to solve this problem is a really, really petrifying scarecrow - preferably one that fires lasers out its eyes – who would then scare the movie fans away. You know, something like this:
Surely anything that scares Batman should do the trick. Before all of this hullaballoo, Sutcliffe and Helfrich had lived on the property without any incident since purchasing it back in 1987.
Then, in July 2013, The Conjuring came out. Starring Patrick Wilson and Verma Farmiga, it revolved around the true story of Ed and Lorraine Warren, ghost hunters who investigated strange occurrences at the house of Roger and Carolyn Perrson in the 1970s.
The Conjuring was a surprise hit, grossing $318 million from its $20 million budget, and it has even inspired a sequel, The Conjuring 2: The Enfield Poltergeist, which will be released on June 10, 2016. Someone might want to tell Sutcliffe and Helfrich, so that they aren't caught off guard.
Your Daily Blend of Entertainment News
Thank you for signing up to CinemaBlend. You will receive a verification email shortly.
There was a problem. Please refresh the page and try again.