New Resident Evil: Afterlife Trailer Is Ridiculous And Fun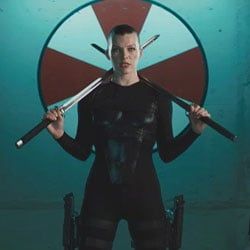 Resident Evil: Afterlife has a new trailer and it's cheesy, ridiculous, and plays out kind of like a videogame. But it's also sort of stunning on a visual level and if they pull off even half the stuff they're attempting in it, potentially a lot of fun. Even the 3D has potential, they're giving that aspect of the movie the hard sell which should make you suspicious, but they genuinely seem to have put a lot of effort into it. Most of the movies being released in 3D right now don't really need it, but here's one that might actually have a legitimate use for it.
In Afterlife, Alice (Milla Jovovich), continues on her journey to find survivors and lead them to safety. Her deadly battle with the Umbrella Corporation reaches new heights, but Alice gets some unexpected help from an old friend. A new lead that promises a safe haven from the Undead takes them to Los Angeles, but when they arrive the city is overrun by thousands of Undead - and Alice and her comrades are about to step into a deadly trap.
Here's the new Resident Evil: Afterlife trailer followed by a few very cool screencaps from it:
Your Daily Blend of Entertainment News
Thank you for signing up to CinemaBlend. You will receive a verification email shortly.
There was a problem. Please refresh the page and try again.