Retro Beer Cans From Jaws Are Coming Back So You Can Crush It Like Quint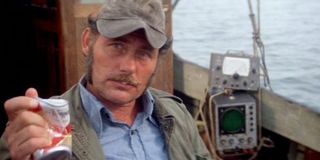 From the nude young woman ripped beneath the waves by its titular beast, to Quint's nails on a chalk board to Brody's pushed-in look of terror, Jaws is full of iconic elements. But its one of the lesser regarded that is now getting a moment in the spotlight. Specifically, the cans of beer Quint favors while hunting for the Great White Shark prowling Amity's waters.
Short List has drawn our attention to an unusual Jaws anniversary celebration. Narragansett Beer is going back to its vintage can look with the claim that it's to cheer the 39th anniversary of Jaws' release. Why not wait until the movie hits a more typically praised landmark, like a 40th anniversary? I don't know. Maybe Narragansett Beer's makers believe in living in the now. After all, you never know when a Great White Shark might pop up and bring an end to your drinking days.
R.I.P. Quint.
Narragansett Beer makes clear that the Narragansett 1975 "Jaws" can is not just a nostalgic marketing ploy. It's also a chance to do some good. The movie Jaws spurred an anti-shark sentiment worldwide, one that became so intense that the novel's author Peter Benchley began to dedicate himself to shark preservation. But buying the Jaws celebration cans will actually help support shark conservation. Their announcement states:
You can even have a part in naming this adopted shark by Tweeting suggestions throughout Shark Week (August 10th-18th) with the hashtag #NameTheShark. Considering the campaign's inspiration, Bruce seems the only truly appropriate name, doesn't it?
To promote the vintage can, and to a lesser degree their shark conservation campaign, Narragansett Beer has released this retro-inspired poster.
Personally, I watch Jaws every summer. Right before I go to the beach. It's a terror-inducing tradition that never gets old. But this year, I can kick back to watch this classic with an appropriately themed beverage. Or as Narragansett Beer's other promotional hashtag suggests: #CrushItLikeQuint
Your Daily Blend of Entertainment News
Staff writer at CinemaBlend.
Your Daily Blend of Entertainment News
Thank you for signing up to CinemaBlend. You will receive a verification email shortly.
There was a problem. Please refresh the page and try again.