Revamped 007 Website Teases Behind-The-Scenes Skyfall Footage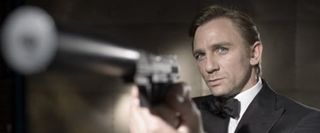 It's been over three years since Bond's last outing, Quantum of Solace, hit with a whimper and left many moviegoers wondering how the magical chemistry of Casino Royale could have gone so horribly wrong. This November Bond finally returns in Skyfall, which is looking more promising all the time. Daniel Craig is back as 007, Javier Bardem is playing a villain, and the storyline is said to revolve around Bond having to defend M against a threat from her past. We've got our fingers crossed that Skyfall will put all memories of Marc Forster's regrettable Bond flick behind us.
Now that we've all rung in the new year, the Bond people have launched a brand new 007.com, complete with a countdown clock for Skyfall's release and a welcome video from producer Michael Wilson. There's not much to it, aside from promises of more behind-the-scenes footage to come, but it does provide a few very brief looks at something being filmed.
It's hard to tell from a mere 45 seconds what is going on in the footage, except that it's all very blue. I'm not even sure that the suited figure seen posing with firearms is Daniel Craig -- the profile doesn't quite look right. It's entirely possible this footage was just thrown together specifically for this brief video, with just some stylish background elements so they'd have something more exciting than Michael Wilson's head. Still, I'm betting future updates at 007 will be more exciting and have a bit more meat to them.
Skyfall opens November 9th, 2012. You can read more about it in our Blend Film Database.
Your Daily Blend of Entertainment News
Your Daily Blend of Entertainment News
Thank you for signing up to CinemaBlend. You will receive a verification email shortly.
There was a problem. Please refresh the page and try again.