The Revenant Just Got An Over-The-Top Rave From Sean Penn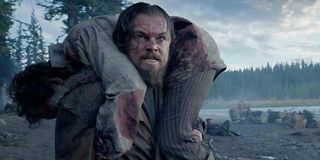 Sean Penn really, really liked The Revenant. So much so in fact that he's called it a "masterpiece" and even compared it to Francis Ford Coppola's Apocalypse Now. Which is about as high a level of acclaim that anyone can bestow upon a film.
Penn was actually the original choice for John Fitzgerald, the character Tom Hardy plays in The Revenant, which would have reteamed him with director Alejandro G. Inarritu, who he previously worked with on 21 Grams. Penn was given the chance to watch The Revenant before it was released, and he's insisted that it's one of the finest cinematic experiences he's ever had. Not only did he admit that he was "compelled throughout" The Revenant, he also explained to Variety:
Sean Penn is hopeful that The Revenant will usher in a new period for modern cinema that will see "bold" producers supporting just as bold directors, because that's exactly what happened with Alejandro G. Inarritu and the six producers that helped the filmmaker bring his latest to the big screen. Want to know their names? Well those good folks were Arnon Milchan, Steve Golin, David Kanter, Mary Parent, James W. Skotchdopole, and Keith Redmon.
And their good work paid dividends, because The Revenant has been met with impressive reviews, and it currently has an 81% rating on Rotten Tomatoes. In fact, it's been widely predicted that Leonardo DiCaprio is well on course to finally win the Best Actor Academy Award for his performance.
There are actually several similarities between the productions of The Revenant and Apocalypse Now, as they were both mired with problems. Several crew members on The Revenant decided to quit because of the harsh filming conditions, and its budget soared from $60 million to $135 million. Production also ran long as it was ultimately completed in August 2015 when it was originally planned to have been done in either April or May.
Apocalypse Now's production was even worse. It was originally planned that the film would be shot in five months and end in August 1976. But typhoons, a heart attack, overweight actors, destroyed sets, a spiralling budget, and numerous other problems meant that it finally concluded on May 21, 1977. Post production was almost as messy, and it wasn't released until August 15, 1979.
But when it was finally released it was met with instant acclaim and recouped a staggering box office return that instantly put all of its problems in the shade. The Revenant's production team will be hoping for the same when the epic is finally released on Christmas Day.
Your Daily Blend of Entertainment News