The Revenant Director's Blunt Reaction To Leonardo DiCaprio's Bear Rape Rumors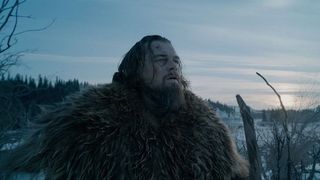 You may have found yourself forced to picture the ungainly image of Leonardo DCaprio being raped by a bear this week. The first reactions to The Revenant saw audiences insist that it was a brutal and gory tour-de-force. But then after it was murmured that a bear in the film rapes DiCaprio's character, twice, publications started to pick up on the rumor and began printing it as fact. It's since been cleared up that nothing of the sort happens, and now director Alejandro Inarritu can't stop laughing about it.
Inarritu, who last February picked up the Best Director Oscar for his work on Birdman – an achievement that must have felt like a million years ago at times this week, has come out and admitted that he's been keeping up to date with all of the goings this week regarding the first responses to The Revenant. As such, the eye grabbing headlines that involved Leanardo DiCaprio being raped by a bear immediately grabbed hold of Inarritu's eyes and left him perplexed. At least now that everything has been cleared up he can see the funny side of it though. Talking to the LA Times, he explained:
In response to these events, Inarritu's mind immediately led him to a critique of the media. He compared the "pathetic" way that the story grew from one "guy in a garage inventing something" to it then being acknowledged as news after papers around the world printed it to something resembling a Saturday Night Live sketch. And it's hard to disagree with him.
This entire chain of events started when entertainment columnist Roger Friedman detailed a specific scene in The Revenant that sees Leonardo DiCaprio's Hugh Glass being attacked by a bear, who is simply looking to protect her cubs. In his description, Glass writes "that the bear flips Glass over on his belly and molests him – dry humps him actually – as he nearly devours him." Unfortunately, Friedman's understandably vague – he is, after all, reviewing the film and trying not to ruin it – but still needlessly sexual description of the scene provoked other outlets to twist his words into allegations that DiCaprio's character is raped.
As the stories on this matter accumulated, Fox was forced to come out and release a statement denying that there is a "rape scene with a bear" in The Revenant. Their proof? The bear was a female who is simply protecting her cubs.
Not that Fox should be complaining. Because of this The Revenant has received an almighty promotional push ahead of its December 25 release date, which, since the week old Star Wars: The Force Awakens will still be dominating multiplexes, will be much needed.
Your Daily Blend of Entertainment News