How Global Warming Almost Screwed 3 Oscar Contenders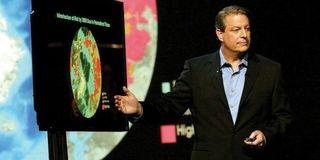 If I was Al Gore I'd already be pitching An Inconvenient Truth 2, because over the course of the last 12 months Hollywood studios have felt the full brunt of global warming like never before. In particular, three films have found themselves spiraling over budget and having their productions blighted, all because of unpredictable weather conditions that were all the result of unseasonably hot temperatures.
Quentin Tarantino's The Hateful Eight, Alejandro G. Inarritu's The Revenant, and Baltasar Kormakur's Everest were each hugely troubled by the ever-changing weather. I know what you're thinking: surely all it takes is one phone-call to figure out just how hot it is in an area? Well, according to Dow Griffith, a member of the Location Manages Guild Of America, that's no longer the case. He explained to The Wrap:
These scenarios would have been comical, if the whole planet wasn't in jeopardy. But what issues did the above trifecta of films actually encounter? Surely it couldn't have been anything worse than a little case of the sniffles? Guess again.
The Revenant
Producers were forced to spend an extra $10 million trekking across Patagonia in search for snow because when they arrived in Calgary in March there simply wasn't any there. According to a source for The Wrap this was unprecedented, and they were quoted as saying, "East of the Mississippi there was 40 feet of snow. West of the Mississipi there was no snow." They added that due to the lack of snow the entire movie had to shut down, before they then regrouped, and reshot The Revenant's end in Patagonia.
Everest
In their attempt to film consistent weather conditions, Everest travelled across several locations in the world. One of these was at Everest's base camp in Nepal in April 2014 when the worst avalanche in recorded history struck, which resulted in the deaths of 12 tour guides. They also shot in Italy's Dolomites mountain at the same time as the country's worst snow fall in history.
The Hateful Eight
The lack of snow in Telluride, Colorado, where the film was shot, was a daily struggle for QT and his merry band of cinematic warriors. That was mainly due to the fact that, according to the National Weather Service, snowfall in sourthern Colorado was down 50 percent from its yearly average. In fact, after originally being touted for a November 2014 start date, production was pushed back two months to January because of a lack of snow.
That sound you can hear is Al Gore saying, "I told you so." Hopefully now that Hollywood, and not just the world is being ravaged by global warming, the powers that be will finally sit up and take notice.
Your Daily Blend of Entertainment News