Rhys-Davies Out Of Indy 4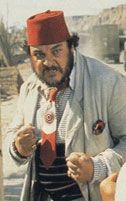 Casting rumors and other information about the fourth Indiana Jones movie continue to fly around the net. The latest is a reported confirmation that Jonathan Rhys-Davies, who played Sallah in both Raiders of the Lost Ark and Indiana Jones and the Last Crusade, will not be back for the fourth movie. This comes from a Dark Horizons source who spoke to Rhys-Davies at a New Zealand fan expo.
Rhys-Davies reportedly said that he had not been approached to be in the movie. He had been told by a third party that the character had been written out of the script and the cast would be "younger." That seems like a pretty odd reason. Harrison Ford is 62, Sean Connery is 76, and newly added Ray Winstone is 49. Shia LaBeouf is the only young person announced at this point. It seems like Rhys-Davies would fit right in with the cast.
I love the character of Sallah and his line "Asps. Very dangerous. You go first," is one of my favorite in the series. He was a total stereotype, but not in annoying Short-Round kind of way. Not slam your face in it cutesy. Although, if Winstone is meant to replace Rhys-Davies, I can live with that, he's top notch.
Your Daily Blend of Entertainment News
Thank you for signing up to CinemaBlend. You will receive a verification email shortly.
There was a problem. Please refresh the page and try again.