Richard Branson Plans Rolling Stones Drama About The Making Of Exile On Main Street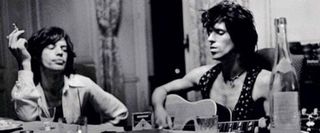 Rebel Billionaire Richard Branson is as well known for his immense wealth as he is for his bold moves, expanding his Virgin business interests from music to megastores to airlines and even space travel. This wily and wild haired entrepreneur is a man who not only has the courage of his convictions, but also the major bankroll to back it up. And his latest brainchild is a movie about The Rolling Stone's problem-plagued recording of heralded album Exile on Main Street.
Deadline reports Branson has purchased the rights to Robert Greenfield's historical account Exile on Main Street: A Season in Hell with the Rolling Stones with aims to translate it into a narrative drama. The story takes place in 1971 at Keith Richards' seaside mansion in Southern France where the band recorded the album—which has since been declared one of the greatest rock records ever made. But the band was actually fleeing from tax debts owed in England that they couldn't pay. As the Stones crafted songs like "Shine a Light" and "Happy," tensions between Mick Jagger and Keith Richards heated up, making Exile's creation all the more miraculous.
Branson has dabbled in film production before, ranging from the long forgotten 1984 comedy Electric Dreams to the earnest 2010 documentary Jambo Jumbo which followed charity workers in Kenya. However, this may be the first film project of his with true commercial potential. Sure to be filled with sex, drugs and classic Stones' rock n' roll, Exile on Main Street could be a beacon to the countless fans who've succumbed to the Stones' allure over their 50 years together. Already Branson has lined up Brandon and Phil Murphy, who've been contracted to script a Steve McQueen biopic for Sony, to translate this tumultuous time into a compelling script. From here it will be interesting to see who Branson lines up to helm Exile, but the real question is who will chosen to play Mick and Keith?
Staff writer at CinemaBlend.
Your Daily Blend of Entertainment News
Thank you for signing up to CinemaBlend. You will receive a verification email shortly.
There was a problem. Please refresh the page and try again.