The Ridiculous Way Quentin Tarantino Explains What He Wants, According To Samuel L. Jackson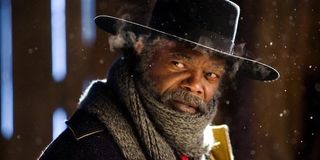 As a writer and director, Quentin Tarantino is well known for his knowledge of film, and his movies are peppered with references and allusions to movies from all throughout the history of the medium. Some are obvious, others are more subtle, but this tendency extends to the way he directs his films as well, at least according to Samuel L. Jackson.
Back in 2002, Tarantino's frequent collaborator—Jackson has appeared in six Tarantino movies, if you count the upcoming The Hateful Eight—appeared on Bravo's Inside the Actors Studio, where host James Lipton asked how the filmmaker directs a scene. Jackson laughed and said:
That is indeed a rather roundabout, referential way to explain things to an actor, but given what we know about Tarantino and his proclivities, it's also not particularly surprising either. He borrows shots and structures and set ups from movies far and wide, so it only makes sense that when putting a scene together, he would use these reference points to explain what he wants to his actors and crew.
Check out what else Jackson has to say in the video below, it's worth a look just to see his imitation of his friend and creative partner.
Samuel L. Jackson last teamed up with Quentin Tarantino for 2012's slavery revenge western Django Unchained, and we'll get to see the latest fruits of their collaboration, also in a western, on Christmas Day when The Hateful Eight hits theaters. Set in post-Civil War Wyoming, the movie revolves around eight frontier denizens, each with their own motives and backstory, who all hunker down in an outpost during a violent snowstorm. Jackson plays Major Marquis Warren, a former Union soldier who has now become a bounty hunter.
The Hateful Eight almost didn't happen after the script leaked out before production, but Tarantino changed his mind, and from everything we've seen from the film, we're certainly glad that he did.
Your Daily Blend of Entertainment News
Thank you for signing up to CinemaBlend. You will receive a verification email shortly.
There was a problem. Please refresh the page and try again.