The Unfortunate Mistake That Actually Helped Samuel L. Jackson's Pulp Fiction Audition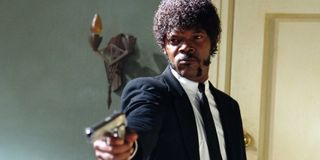 It's hard to believe Samuel L. Jackson having to audition for anything these days, but if you were to travel back a couple decades you'd catch the man who would be Nick Fury reading like the best of them at a cattle call. Twice in those days of Jackson's early climb to fame, he'd run across Quentin Tarantino and audition for him. While Samuel L. Jackson missed out on that first part (in a "little" movie called Reservoir Dogs), he nailed his second audition which was for a part in Pulp Fiction. And we all have Laurence Fishburne to thank for it, as a mix up in the casting department fueled Jackson's rage-filled reading.
While Vulture interviewed Samuel L. Jackson in connection with his work in Quentin Tarantino's latest film The Hateful Eight, the subject of the auditions he had for Reservoir Dogs and Pulp Fiction was discussed. While Jackson may not have been cast in Tarantino's first film, the eccentric director remembered him upon seeing him at a screening for that first film. Even better, Tarantino promised Jackson that he had a role just for him, which led to the delivery of the script to Pulp Fiction to his doorstep.
As the story was laid out in the Vulture piece, the script to Pulp Fiction had a picture of two gangsters and a note that read, "If you show this script to anyone, we'll show up at your door next week and kill you." However, this isn't the famed inspiration for Samuel L. Jackson's audition. In fact it was a simple mistake that was made as he was on his way in to read for his eventual role of Jules Winfield. Just as Jackson was about to make his way into his audition, someone in the office greeted him in the worst way possible: they mistook him for Laurence Fishburne. This was enough to spark up Jackson's anger, to the point where when he went into his audition, he channeled so much rage that it can still be felt cosmically whenever he's on screen.
Now, one way to spin this is that Quentin Tarantino's people were really that forgetful and mistook Samuel L. Jackson for Laurence Fishburne. It wouldn't be that surprising, as Hollywood isn't exactly a town that's known for remembering people's names early on in their careers. However, when you consider how much of a prankster Quentin Tarantino is, as well as his love of method-style actors, another possibility comes into play. We'd go as far as to say that Tarantino purposefully had Jackson greeted as Mr. Fishburne because he knew he would get riled up and ready to deliver in the reading.
With the role in Pulp Fiction written for Samuel L. Jackson, it's hard to believe that anyone else would be coming in for the reading if Quentin Tarantino really wanted Jackson for that role. But using an obvious strategy to get Jackson's blood up is something you could not only see Tarantino doing, you could see him doing it with that trademark devilish grin on his face. Either way, thanks are in order to Laurence Fishburne for inspiring such a tremendous performance in the first place, so our caps collectively doff off to you, sir.
The Hateful Eight opens in limited theaters on Christmas Day. It stars Samuel L. Jackson, and not Laurence Fishburne.
CinemaBlend's James Bond (expert). Also versed in Large Scale Aggressors, time travel, and Guillermo del Toro. He fights for The User.
Your Daily Blend of Entertainment News
Thank you for signing up to CinemaBlend. You will receive a verification email shortly.
There was a problem. Please refresh the page and try again.