Why Quentin Tarantino Cut Some Of Samuel L. Jackson's Django Unchained Scenes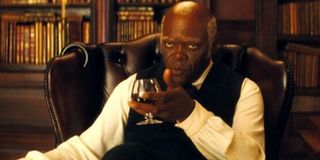 Quentin Tarantino has a warped mind, and Samuel L. Jackson is one of the few who knows the lengths to which he's willing — and unwilling — to go. The actor has been featured in six of the director's films (going on seven with The Hateful Eight), but he played his most depraved character in the Oscar-winning Django Unchained. According to his own testimony, he performed such hard-to-watch actions as Stephen that they had to be cut from the film.
Tarantino will do anything for the love of film, but he won't do…whatever Stephen did. In an interview with Vulture, Jackson said some of the things his character did were so "twisted" that his director couldn't let them into the final cut. He said:
Stephen was the house slave of Leonardo DiCaprio's Calvin Candie. If the master of "Candyland," the fourth largest and most vile plantation in Mississippi, was considered sadistic, his righthand man was just as bad. He ascended the ranks by torturing his fellow slaves, and was the one who told Calvin about Django and Broomhilda's relationship. By the end of the film, the audience welcomed the shot in the kneecaps inflicted by Django. It's hard to imagine him being any more despicable than he already was.
Talking about Jackson, Tim Roth, who played Mr. Orange in Reservoir Dogs and Oswaldo Mobray in The Hateful Eight, told Vulture:
Jackson plays one of Tarantino's Hateful Eight, a black former union soldier, and current bounty hunter, named Major Marquis Warren. Six or seven years after the Civil War, he encounters fellow bounty hunter John Ruth (Kurt Russell) and his captive Daisy Domergue (Jennifer Jason Leigh) while on the wintry road in Wyoming as they travel to the town of Red Rock. They also encounter Chris Mannix (Walton Goggins), a Southern renegade who claims to be the sheriff. The harsh weather forces them to take shelter in a stagecoach stopover called Minnie's Haberdashery, where they meet four other strangers. Their encounter proves to be more unique as they realize they may not make to Red Rock after all. Jackson said he and Tarantino have been calling his character "Hercule Negro," because he's the detective of the bunch.
The Hateful Eight opens on Christmas Day.
Your Daily Blend of Entertainment News
Thank you for signing up to CinemaBlend. You will receive a verification email shortly.
There was a problem. Please refresh the page and try again.