The Controversial Reason Quentin Tarantino Believes The Hateful Eight Will Be Timely Today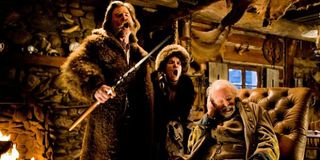 Any Quentin Tarantino film is going to cause quite a stir. Each and every addition to his oeuvre is unabashedly provocative as well as outrageously entertaining. But what makes his upcoming effort The Hateful Eight so exciting is that even though it's set in the middle of the 1800s, its subject matter reflects the current climate in America. And Tarantino is very aware of that.
Quentin Tarantino made this admission during his wide-ranging conversation with Vulture, while he also gave us a few more details regarding The Hateful Eight's tone and content. Tarantino explained:
Tarantino was then asked whether the recent tragedies in Baltimore and Ferguson affected his work on The Hateful Eight, while he was even probed about whether or not he had altered any of his script or direction because of these incidents. But the director was adamant that this was already present. He added
The Hateful Eight is Quentin Tarantino's eighth film, and he is coming off his two most financially successful flicks to date. While 2009's Inglorious Basterds went on to gross $321.5 million, this triumph was then trumped by 2012's Django Unchained, which hauled in $425.4 million.
Set in Wyoming, several years after the Civil War, The Hateful Eight, like its title suggests, revolves around eight westerners who have to take refuge in a stagecoach stopover during a blizzard. It also has a rather sterling ensemble cast, and each member jumped at the chance to work with Tarantino for either the first, or, in the case of Samuel L. Jackson, the sixth time. Check out the trailer.
Alongside Jackson there is Kurt Russell, Jennifer Jason Leigh, Walton Goggins, Demian Bichir, Tim Roth, Michael Madsen, and Bruce Dern. The latter of these is actually quite lucky to be included after it was his representative who reportedly leaked the script online, which almost led to Tarantino abandoning the film all together.
Lucky for us Tarantion changed his mind, because The Hateful Eight looks like it could be the love-child of Reservoir Dogs and Django Unchained. We'll see if that's the case when The Hateful Eight is released on December 25, 2015.
Your Daily Blend of Entertainment News