Rise Of The Guardians Soars At Savannah Film Fest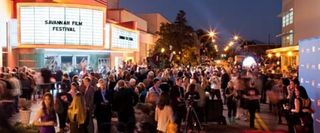 Every year, I'm hesitant to gush too heartily about the Savannah Film Festival – not because the fest lacks for much, but merely because it's intimate, formidable, attractive and off the radar (and I selfishly want it to stay that way).
Alas, the word continues to spread about the success and influence of Savannah's outstanding film celebration, sponsored annually by the Savannah College of Art and Design, and so I'm resigned to the fact that I'll be standing next to more and more patrons on Broughton Street as we all await screenings at the prestigious Trustees Theatre, an early morning panel at the historic Marshall House, or late-night ice cream at Leopold's.
This year's Savannah Film Fest programmed several films with Oscar dreams. David O. Russell's Silver Linings Playbook opened the fest, which moved on to high-profile screenings of Robert Zemeckis' Flight, Walter Salles' On the Road, Dustin Hoffman's Quartet and the winning musical-comedy The Sapphires. The celebrated Director's Choice was Hyde Park on the Hudson, which the fest closed with a special screening of Rise of the Guardians … marking the first time in fest history that a 3D feature screened as part of the annual event.
I made sure I stayed in Savannah long enough for Guardians, which is generating a fair amount of buzz as it heads toward its Nov. 21 opening, and now that I've caught it, I understand why. Director Peter Ramsey's adventure plays like a holiday-tinged spin on The Avengers, with the classic Guardians (Santa, the Easter Bunny, the Tooth Fairy and the Sandman) uniting to stop a boogeyman named Pitch Black. And much like The Avengers, now that we've seen Ramsey pair these holiday characters together for one massive thrill ride, you're left wondering why no one has attempted this before.
The secret to Guardian's success is its earnest embrace of the wonder and awe that accompanies a child's belief in these mythical creatures. While Ramsey keeps the movie zipping along with what I like to call roller-coaster animation movement, screenwriter David Lindsay-Abaire enhances the warm heart of William Joyce's fanciful novel, making Guardians a can't-miss holiday adventure for the whole family.
We'll have a far more traditional take on Guardians as we get closer to release, focusing (no doubt) on the strong voice casting and the seamless animation techniques generated by the wizards at DreamWorks Animation. For now, I'll say that once again, Savannah Film Festival programmers figured out how to end their event on a high note, and send audience members into the streets with smiles on our faces as we remember yet another winning fest … and anticipate next year's gathering.
Managing Director at CinemaBlend. ReelBlend cohost. A movie junkie who's Infatuated with comic-book films. Helped get the Snyder Cut released, then wrote a book about it.