Greenland 2: 6 Quick Things We Know About Gerard Butler's Greenland: Migration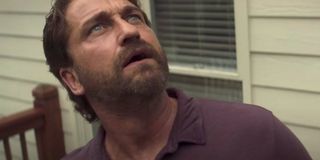 CinemaBlend participates in affiliate programs with various companies. We may earn a commission when you click on or make purchases via links.
Released during one of the many peaks of the COVID-19 pandemic in 2020, the Gerard Butler-led disaster film Greenland offered audiences a brief respite by allowing them to forget about their own problems for two hours and instead follow a family seeking shelter from a planet-killing comet. And while the movie could have been a one-off adventure, it now appears John Garrity and his estranged wife Allison (Morena Baccarin) are back for another journey with the upcoming Greenland: Migration.
Shocked to see a Greenland 2 announced to happen this early? Well, it shouldn't come as a major surprise considering how successful the film was overseas during a time when theaters were largely closed to the public around the world. That being said, it looks like the powers that be aren't wasting any time testing an already healthy box office to see how even more audiences will respond to one of the best disaster and Gerard Butler movies in quite some time.
Gerard Butler And Morena Baccarin Are Returning For Greenland: Migration
When Greenland: Migration was first announced in June 2021, Deadline reported that the upcoming sequel to outrageous and outrageously fun 2020 disaster flick would see the return of its predecessor's two main leads: Gerard Butler and Morena Baccarin as John Garrity and Allison Garrity, respectively. There hasn't been any word on if Roger Dale Floyd, the young child actor who portrayed Butler and Baccarin's on-screen son, Nathan Garrity will be coming back for Greenland 2, but considering just how big of a role he played in the original, it's hard to imagine the family going on without him.
Greenland 2 Will Follow The Garrity Family As They Exit The Fortified Bunker To Start A New Life In Europe
In the final moments of Greenland we watched as the Garrity family and other survivors exited the bunker to see a world brought to the brink of destruction by fragments of the planet-killer comet. And while major cities around the world were wiped off the map, there was still some hope for humanity, as heard in the various radio messages from other secured locations. According to Deadline, Greenland: Migration will be a continuation of that story and will show the family as they leave the safety of bunker to embark upon a perilous journey across Europe to find a new home and start a new life for themselves.
Director Ric Roman Waugh And Screenwriter Chris Sparling Are Returning For Greenland: Migration
Also returning for Greenland 2 are director Ric Roman Waugh and screenwriter Chris Sparling, the core filmmakers behind the surprise 2020 disaster movie hit, according to Variety. In a statement provided to Variety, Waugh touched on the impact of the first film when looking toward to the franchise's future:
Greenland: Migration will be the fourth film project to see a collaboration between Ric Rowan Waugh and actor Gerard Butler following the release of Angel Has Fallen in 2019, Greenland in 2020, and the upcoming Night Has Fallen, which was given the greenlight in November 2020. Chris Sparling's other credits include Buried, Mercy, and Down a Dark Hall to name a few.
Production On Greenland 2 Is Slated To Begin At Some Point In 2022
Although much about the plot, additional members of the cast, or a release date have not been made public at this time, we do know Greenland: Migration will enter production at some point in 2022, according to Variety. Depending on when principal photography begins, we could possibly see Greenland 2 in theaters at some point in either late 2022 or early to mid 2023 (hello, summer blockbuster season). Expect to hear more on both the production and a possible release date as pre-production continues to build up steam.
Greenland Brought In More Than $52 Million Worldwide In 2020, Despite Being Released During The Pandemic
Prior to the start of the COVID-19 pandemic in early 2020, Greenland was slated to open in theaters in the United States on June 12 of that year, but that date, and others like it, came and went, with the movie eventually forgoing its domestic run in favor of VOD release that October. And while American audiences never got to see Gerard Butler get his family to safety on the big screen, moviegoers in other territories ventured out to see the movie, which collected a total of $52.3 million worldwide throughout the second half of 2020, according to Box Office Mojo.
These numbers, combined with surprisingly favorable reviews, must have been enough for Greenland: Migration's producers and financial backers (which include Anton, Basil Iwanyk's Thunder Road Pictures, and Gerard Butler and Alan Siegel's G-BASE) to put their resources into the upcoming sequel.
How Things Ended For The Garrity Family In The First Greenland Movie
SPOILER ALERT: This section contains spoilers from Greenland and its ending
The first Greenland movie was one hell of a ride that saw the Garrity family travel all the way from their suburban Atlanta, Georgia, home all way up to the arctic tundra that is Greenland before everything was said and done. Following one of the craziest second acts in a disaster movie (even by the genre's standards), the newly reunited family makes it to the safety and security of the fortified bunker complex along with hundreds, if not thousands of other survivors.
The final moments of the movie see the family exiting the bunker and entering a new world, one that is decimated by the onslaught of comet shards that wiped major cultural centers off the map. With their home most likely nothing more than a crater at this point, the Garrity family will have to make a new home and new life for themselves in Greenland: Migration.
In the event you skipped the spoiler warning and you liked what you read, or if you just want to revisit the Garrity family's race against time, you can watch Greenland streaming right now. That should help you pass the days until we know more about Greenland: Migration.
Philip grew up in Louisiana (not New Orleans) before moving to St. Louis after graduating from Louisiana State University-Shreveport. When he's not writing about movies or television, Philip can be found being chased by his three kids, telling his dogs to stop yelling at the mailman, or yelling about professional wrestling to his wife. If the stars properly align, he will talk about For Love Of The Game being the best baseball movie of all time.
Your Daily Blend of Entertainment News
Thank you for signing up to CinemaBlend. You will receive a verification email shortly.
There was a problem. Please refresh the page and try again.