Upcoming John Cena Movies, WWE Events And More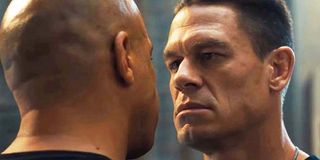 John Cena is no stranger to attention. Over the course of his career, the wrestler-turned-actor has won multiple championships in the WWE, set and broken records for the number of wishes his granted through the Make-A-Wish Foundation, and even become a heavyweight in the world of film and television. And even though some of his projects were either delayed or put on the back-burner in 2020, the charismatic personality looks to have a remarkable, and possibly career-defining year in 2021 when he shows up in the highly anticipated The Suicide Squad and F9, and that's just the beginning.
So, as we look forward to 2021 and what it has in store for John Cena, let's take a look at all of the projects he's attached to that are set to come out in the next year or so. And will we see his return to the squared circle after vanishing from the middle of the ring at the conclusion of his "Firefly Funhouse Match" at WrestleMania 36? We can only hope…
F9 - April 2, 2021
Fans of the Fast and Furious franchise were all fired up and ready to go when it was announced that John Cena would be appearing as Dominic Toretto's (Vin Diesel) brother Jakob in F9 in early 2020. The ninth installment in the action-packed series was supposed to drop on May 22, 2020, but just a few weeks after the first trailer debuted, the release date was pushed back nearly a year until April 2, 2021, meaning we'd have a considerable amount of time to find out if John Cena was lying when he said he wasn't playing the villain in the latest entry in the successful franchise.
In the wake of F9's delay, longtime members of the cast sent out reassuring messages about the new release date, as did John Cena, who was set to make his debut in the franchise with its ninth main entry. And who knows, maybe Tyrese Gibson was right when he said that pushing the movie's release back a year was a good thing, even if it means we have to wait even longer to see that surprise cameo Vin Diesel was teasing shortly after the announcement was made. I know it's wishful thinking, but what if it's Dwayne Johnson's Luke Hobbs coming back to get revenge on John Cena's Jakob Toretto, continuing the wrestlers-turned-actors WWE feud from 2011-2013.
The Suicide Squad - August 6, 2021
John Cena has been attached to James Gunn's The Suicide Squad since 2019 when it was rumored that the "Doctor of Thugonomics" had been cast in an unspecified role. The news was confirmed later that summer, but the nature of the Cena's role in the adaptation of Task Force X's adventures was still being teased up until the DC FanDome in August 2020, where it was finally revealed that he would be playing Peacemaker.
The wrestling superstar will be playing the Christopher Smith version of the DC Comics character, a ruthless killer who has a desire to bring peace no matter how much death and destruction is required to pull it off. In the behind-the-scenes sneak peek that accompanied the "Roll Call" trailer, John Cena described Peacemaker as a "douchey Captain America," with director James Gunn saying that the character is willing to kill anyone and everyone to make the world a more peaceful place. We'll have to wait until August 6, 2021, until we get to see John Cena's Peacemaker and his twisted sense of peace in action.
Project X-Traction - 2021
Not only will John Cena make his Fast and Furious and DC debut in the coming year, the star of movies like Bumblebee and Playing with Fire is also teaming up with martial arts and action legend Jackie Chan in the much-anticipated Project X-Traction. According to a report from THR when the project was first announced in 2018, the latest offering from Need for Speed and Act of Valor director Scott Waugh will center on the partnership formed by a Chinese private security contractor (Chan) and a former United States Marine (Cena) when they are sent to a Chinese-owned refinery in the Middle East to rescue workers and prevent the theft of the valuable oil.
According to the Project X-Traction IMDb page, the action thriller is set to be released at some point in 2021, but no exact date has been announced at this time. I guess we'll just have to wait and see what these two heavyweights have in store for the buddy action genre.
Vacation Friends - TBD
Over the course of the past five years, John Cena has proven time and time again that he is more than just a beefed up wrestler and aspiring action star with appearances in Trainwreck, Sisters, and Blockers, where he showed just how far he would go to get a laugh. And Cena looks to be continuing with his successful balancing act of comedy and action with the upcoming Hulu original film, Vacation Friends.
The movie was first announced in late 2019 when Deadline revealed that the plot will center around a straight-laced couple that meets a wild and crazy couple on vacation in Mexico only to discover that they followed them back to the United States once the trip wraps up. Also starring in Vacation Friends is Meredith Hagner from Palm Springs and comedian Lil Rel Howery who made a name for himself with scene-stealing performances in Get Out, Uncle Drew, and Bird Box. The Atlanta Journal-Constitution reported that production was set to get underway in Atlanta in early 2020, but was pushed back until August 2020 because of the Coronavirus outbreak.
The Janson Directive - TBD
Another project involving John Cena that has been in the works for some time now is The Janson Directive, the film adaptation of Robert Ludlum's 2002 novel of the same name. Cena's one-time WWE rival Dwayne "The Rock" Johnson was originally attached to star in the lead role, but abandoned the project in 2018, at which point his WrestleMania 28 and 29 opponent stepped in and took over. At the time of the announcement, it was revealed that Johnson would stay on as an executive producer of the movie.
For those not aware of the novel, it centers around Paul Johnson, an ex-Navy SEAL and United States spy who goes on the run after a mission goes awry. The role of a former member of the military is right up John Cena's alley as he got his start in the WWE-produced The Marine in 2006, and the 2017 military thriller The Wall. But with no new information on the status of The Janson Directive, we'll have to check back on this one in the future.
WrestleMania 37 - March 28, 2021
We haven't seen or heard from John Cena in WWE since he vanished in the middle of the ring after being defeated by "The Fiend" Bray Wyatt in the insane "Firefly Funhouse" Match at WrestleMania 36 in April 2020, but anyone who's watched even the smallest amount of wrestling over the past 30+ years knows that this isn't the last seen of Mr. Hustle, Loyalty, and Respect. With WrestleMania 37 being held in Hollywood (well, SoFi Stadium in Inglewood, California to be exact), you can almost guarantee that Cena will be making an appearance in some shape or form.
Just look back at John Cena's history at the Showcase of the Immortals and you'll see that he's played a role in every WrestleMania dating back to 2004 when he defeated Big Show for the United States Championship. Sure, Cena hasn't wrestled a sanctioned match at every event since then, but he's appeared in guest spots or even the time he rapped in the middle of Elias' concert at the 35th annual event back in 2019. And with Cena having multiple big-budget movies coming out in 2021, WWE will be clamoring for his star power.
Peacemaker - HBO Max series - TBD
We still have a little less than a year until James Gunn's The Suicide Squad drops in theaters, but one of the early fan-favorites — John Cena's Peacemaker — is already getting a spinoff series on HBO Max. In September 2020, the streaming platform announced that it had put in a straight-to-series order of eight episodes for Season 1 of Peacemaker, which will explore the origins of the douchey superhero/supervillain (depending on how you look at it). While details about the plot of this origin story have yet to be revealed, what is known is James Gunn will be writing all eight episodes and will even serve as a director on multiple of them, including the pilot.
John Cena, who has continued to prove that he is more than just another wrestler-turned-actor, had this to say about getting to portray Peacemaker at least one more time, stating:
Production on Peacemaker is slated to get underway in early 2021, but a premiere date has not been revealed at this point.
Wipeout - TBD
John Cena is no stranger to physical competitive reality show competitions, especially after two seasons of American Grit, so it makes perfect sense for the current man of the hour to lend his talents to the TBS reboot of Wipeout. Alongside Nicole Byer, Cena will be hosting the upcoming extreme obstacle course revival as they push contestants through the show's iconic obstacle course and all its hazards and giant red balls.
In addition to John Cena and Nicole Byer, who will be providing some surely hilarious commentary over the action as it unfolds, the retooled Wipeout will also feature Camille Kostek as the host in the field who talks to the competitors after they end their runs successfully or in spectacular fashion.
There's not information on a release date at this point, but it shouldn't be too long before we're seeing hapless contestants get smacked with giant red balls, stumble onto themselves, and fall into pits of water.
Are You Smarter Than A 5th Grader?
And what about John Cena's 2019 revival of Are You Smarter than a 5th Grader which earned a Daytime Emmy nomination in 2020? There hasn't been any word on the fate of the Nickelodeon series, but it wouldn't be out of the realm of possibility for the show to return at some point. I mean, it wouldn't be the first, or second time some form of the game show has been resurrected since it first became a hit on Fox back in 2007 with original host Jeff Foxworthy, who was brought back as part of the first revival in 2015.
As we all have learned over the past year, a lot can change in the drop of a hat (like the one John Cena used to throw in the crowd night after night), so make sure to check back for all the latest and greatest information about one of the most successful wrestling superstars of all time and one of the most promising action stars in quite some time.
Your Daily Blend of Entertainment News
Philip grew up in Louisiana (not New Orleans) before moving to St. Louis after graduating from Louisiana State University-Shreveport. When he's not writing about movies or television, Philip can be found being chased by his three kids, telling his dogs to stop barking at the mailman, or yelling about professional wrestling to his wife. If the stars properly align, he will talk about For Love Of The Game being the best baseball movie of all time.