Robert Downey Jr. Could Revive Perry Mason As A Warner Bros. Franchise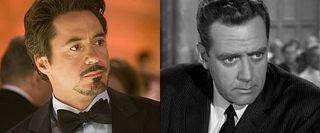 He's about to have a second outing as the crime-solving, literature-spouting, under-ground brawling Sherlock Holmes, but Robert Downey Jr. is already looking into another way to start solving crimes. According to Variety, Warner Bros. is looking to relaunch the Perry Mason franchise, and Downey Jr. is thinking about being the guy to revive the famous defense attorney And he's not just interested as an actor either, as he and his wife Susan Downey would serve as producers, and the new script would be based on an original story that Downey cooked up with executive producer David Gambino.
For a lot of people, Perry Mason is a single character, as played by Raymond Burr on the 60s TV show. But the character actually started out in a series of novels by Erie Stanley Gardner, and was a radio series, several TV movies and six feature films before the 60s TV series ever got started. Even though Mason is a character, not unlike Sherlock Holmes, who's been through many iterations and can be endlessly adapted, it's obviously Burr's version of the character who Downey Jr. would be up against in making his interpretation his own.
Though Downey Jr. would obviously bring a modern spin to the character, they're planning to keep a lot of the familiar elements, including the early 1930s LA setting and supporting characters like secretary Della Street and the P.I. Paul Drake. Obviously the studio is aiming to make this a franchise, which is why it seems a little strange that Downey Jr. might want to take the role. Sure, he's perfect as a smart and capable guy you want to follow anywhere, but after saddling himself to commitments to Iron Man, Avengers and Sherlock Holmes sequels, he seemed to be actively avoiding franchise roles, dropping out of Sam Raimi's Oz: Great and Powerful as well as Alfonso Cuaron's Gravity. Maybe the homegrown LA setting of Perry Mason is what makes this possible?
Things seem to be in the works for now, so while we wait for confirmation, let us know in the comments if you want to see Downey Jr. step into the courtroom in Perry Mason's shoes.
Your Daily Blend of Entertainment News
Staff Writer at CinemaBlend