Robert Downey Jr. Is Giving Away A Sweet Avengers 2 Prize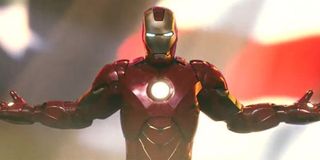 Last week Robert Downey Jr. released the official Iron Man Avengers 2 character poster and promised a "big announcement" in eight days times. We still have a couple more days to go before whatever this is becomes clear, but RDJ has unveiled a major opportunity for all of you Marvelites out there.
How would you like to be one of the first in the world to go see Avengers 2 with a buddy? How would you like to sashay down the red carpet with RDJ on your arm? How would you like to hang with Tony Stark himself in a "battle of wits" and eat caviar in a four-star hotel? All of this a more can be yours. In partnering up with Omaze, Marvel and RDJ are giving you the chance to achieve all of this and become the actor's guest at the world premiere of The Avengers:Age of Ultron. Per the video announcement (shown below), this includes all of these little details. All you have to do is head to Omaze.com/RDJ (opens in new tab) and donate at least $10 towards Julia's house, a children's hospice charity.
Plus, you'll get a ton of Avengers swag, depending on how much money you choose to donate. $25 will get you a digital thank you card from RDJ, which is sure to be as cocky as the announcement video below (in a good way!) A $250 donation will get you a cool concept art poster of Hulkbuster battling Hulk. $2,500 will get you a replica of the Iron Man helmet signed by RDJ. But here's the ultimate prize that is better than the Avengers 2 premiere event. $50,000 will land you a ticket to go meet RDJ on the set of — wait for it — Captain America: Civil War! We all want to see Age of Ultron, but Civil War will feature Downey's Iron Man going head to head with Chris Evans' Captain America, and Chadwick Boseman's Black Panther is coming along for the ride. Plus, you'll have to keep an eye out for the new Spider-Man of the Marvel Cinematic Universe.
Though it hasn't been officially announced, the math adds up: the next solo Spider-Man movie is coming out on July 28, 2017, but he's set to appear in a MCU movie beforehand. Civil War is clearly the best choice for that. Assuming you have that chunk of change lying around, you have to hurry up. There was only one more of these left when this article went to print. If you don't make that deadline, $50k can also get a private advanced screening of Avengers 2 in LA for you and nine friends. Here, let Robert Downey Jr. spell it out for you:
It's great to see that RDJ is using his Tony Stark cockiness for good.
Your Daily Blend of Entertainment News
Thank you for signing up to CinemaBlend. You will receive a verification email shortly.
There was a problem. Please refresh the page and try again.